JD PicKell: Mario Cristobal made the right call on the turnover chain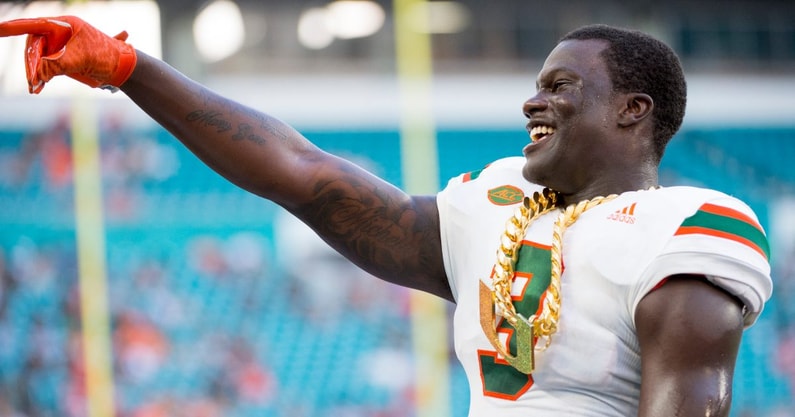 The Miami Hurricanes head coach Mario Cristobal recently did away with the team tradition of defensive players wearing the turnover chain on the sideline after forcing a turnover. That has brought the ire of some fans of the program. However, On3's JD PicKell agrees with the Hurricanes' headman and explained why Cristobal made the right call scrapping the turnover chain.
"I personally love that Mario Cristobal said no more turnover chain. Because if you look at Miami's defense since the turnover chain's birth in 2017, it has been a steady decline. They had 31 turnovers that they forced in 2017; they had 11 turnovers forced last season."
Miami as a program has been mediocre, at best, post the introduction of the chain, excluding the COVID shortened 2020 season. In 2017, they finished the season 10-3 overall, 7-1 in the conference, but came up short in the Orange Bowl that year. Since then, there has not been much one can say that has been cool about Hurricane football, as they sported overall records of 7-6, 6-7, and 7-5.
CLICK HERE to subscribe to the On3 YouTube channel today for all of the latest news on college football, recruiting, NIL, more!
"Turnover chain is cool when you're forcing turnovers. But when you're not forcing turnovers, it just kind of looks silly. It's putting a look at me out there when it's like, dude; you haven't forced a turnover in a game. So I think the first point I'm trying to make here is you gotta have the juice to do extra on the field. Like if you want to be swagging and walk out there with your chest puffed out, you better be able to back it up. In 2017, I thought it was awesome. I was like, that's creative, fun, and that's gonna be great for recruiting. But with the way that it's been a steady decline on defense, it doesn't have the same shine that it used to.
Cristobal is on a mission to restore the Hurricanes back to their former glory of past decades. And if incoming players are more concerned with the subtraction of the turnover chain than the overall quality of the team's performance on the field, then playing for Miami under Cristobal might not be for them. Cristobal knows what he wants out of his program, and he's taking the steps he feels are necessary to achieve that goal.