Mario Cristobal says Tyler Van Dyke is 'on track' to return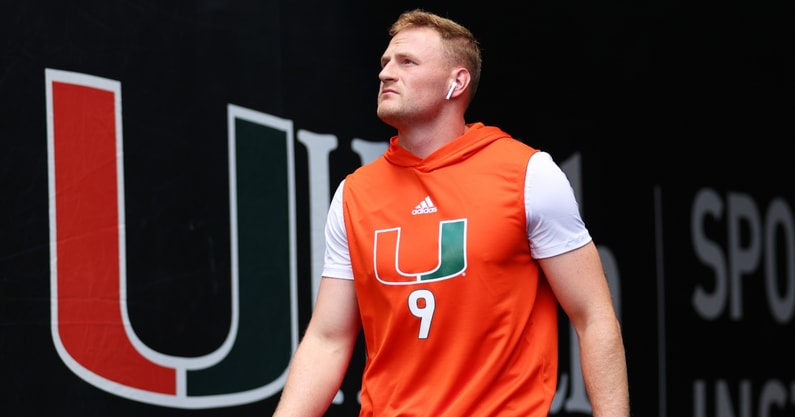 Miami Hurricanes head coach Mario Cristobal briefly addressed quarterback Tyler Van Dyke's status after the team's win without him on Saturday versus Georgia Tech. Although Cristobal said that the sophomore is on track to return to the field, it's still unclear whether that will be this week versus No. 10 Clemson.
"He's improving, he's improving," Cristobal said after the game on Saturday. "Getting better and better. He's on track to come back to be able to play."
Van Dyke has gone 156-of-245 passing for 1,761 yards and 10 touchdowns, with four interceptions, so far this season. He's been far and away the most productive quarterback, though the Hurricanes have now gotten a decent look at two others.
CLICK HERE to subscribe for FREE to the On3 YouTube channel
He missed the Week 11 matchup due to a shoulder injury he has dealt with since the Duke game several weeks ago. He left that game in the middle of it following a sack where he landed on his shoulder. Then, last week Van Dyke gave it a go versus Florida State but had to come out again. 
He finished the game just 4-of-8 passing for 24 yards and left the game for good after briefly attempting a return.
Jacurri Brown leads Miami to win as Van Dyke continues recovery
In the 35-14 win over the Yellow Jackets, the Hurricanes relied on the running game to lift them to victory. However, on his 19 pass attempts, backup quarterback Jacurri Brown completed 14 balls for 136 yards and three touchdowns.
The Hurricanes were also missing leading running back Henry Parrish Jr. for Saturday's game versus Georgia Tech. Parrish has 569 rushing yards and four touchdowns this season.
Leading the run game in his place was Jaylan Knighton who finished with 16 rushes for 118 yards and a touchdown. Brown also added another 87 yards on 19 runs.
Miami is one win away from bowl eligibility with two games left on the schedule. Brown said Cristobal had a message for his team after last week's loss.
"We came back in after that Florida State game and said we have a three-game season to get back to bowl eligible," Brown said. "That's our goal right now."
Up next, the Canes face their toughest challenge of the season in the 9-1 Tigers. They have a 3:30 p.m. ET kickoff on Saturday on the road.