Mario Cristobal sees the transfer portal as an opportunity rather than challenge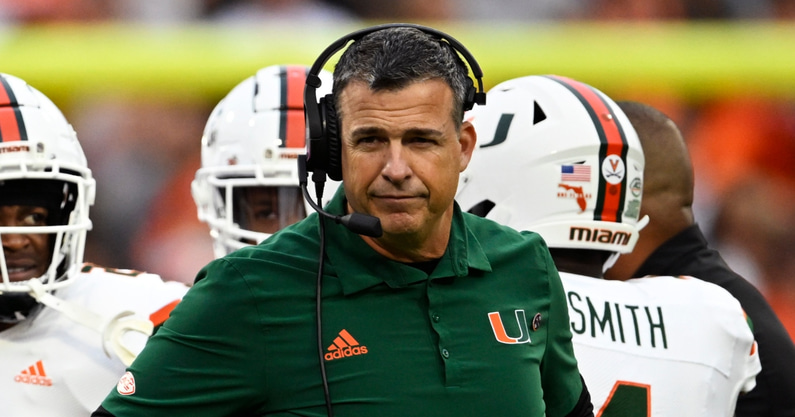 Many head coaches in the college football ranks see the transfer portal as a challenge. But the Miami Hurricanes head coach Mario Cristobal sees it as an opportunity. During a recent interview, the Hurricanes' head man gave his thoughts on utilizing the transfer portal in college football.
"Well, the first thing is the most important thing, the game. I think that sometimes you always try to get ahead of ourselves as a society," said Cristobal. "What we're doing, we're making sure that every ounce of focus is on this game. The challenge of a transfer portal I think it's the opposite. I think it's more of the opportunity of a transfer portal. Every single coach in America has an obligation to load up their roster.
"I know we have the responsibility to make sure our roster is filled with hardworking, tough-minded, resilient, do the right things on and off the field, high-caliber, athletic, and high-character individuals that want to be elite. That want to make the commitment and sacrifice to do that. So, when that time comes, obviously, there is a plan in place and one that's executed full-throttle. As well as our high school recruiting plan and our junior college recruiting plan: nowadays you find players overseas. There's different ways to fill your roster now."

CLICK HERE to subscribe for FREE to the On3 YouTube channel
Cristobal sees the challenges coming in the form of how limited you can be in projecting how to use the portal over an extended time. Planning for years down the line is more difficult than planning for the next season.
"You say it's unlimited, but it's not; you're going reach your cap at some point, but you have to make sure you're finding ways to improve that caliber of play at each position, the quality of depth… You really have to plan for now and two-to-three years out. I think it's more of a challenge projecting," said Cristobal.
"In terms of the portal itself, I think it's nothing but opportunity. Because it works both ways. At every single school, not everybody is invited back. And at the same time, the guys that are seeking more playing time or situations better for themselves, they can do that. And I don't think anyone should judge that; I don't think anyone should be angry at that. That is what it is, and that's what it's there for."
With the transfer portal being a two-way street in Cristobal's mind, that likely means there are players who could like exit the program because of their lack of fit in his scheme. And if that is the case, there will be conversations with those players beforehand, as he explained.
"Yeah, you have conversations, and you have one obligation; to be honest and transparent," said Cristobal. "Some guys were invited back, and some guys have to develop further and become better to be able to contribute. And then, for some guys, it's just not the right fit. And for us as a program, sometimes it's not the right fit. We have one obligation — do right by the players, do right by the program, and be honest and transparent. And again, don't judge. We all have a job to do and an obligation to be the very best we could possibly be. one of my obligations is to ensure that this roster is littered with super high-caliber guys.
"My personal opinion, I do think guys should always finish the season. I don't judge if someone doesn't. I always advise that because I sometimes think that you could have regret if you don't finish. But if someone doesn't finish, you don't judge it. You help them the best you can to find a place for them."
Cristobal's vision is to not only rebuild the Miami program but also fill it with individuals he deems high-caliber. This method will take some time, but it could be worth it in the long run. Cristobal could end up with the best program in the country with players who respect themselves and the game, both on and off the field.