Miami Hurricanes fire Manny Diaz after three seasons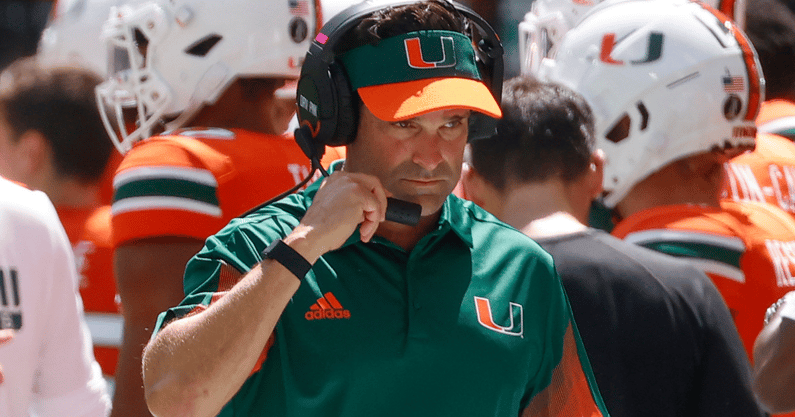 After months of speculation, Miami has fired Manny Diaz, On3's Matt Zenitz has confirmed.
The move does not come as a surprise, as pressure continued to build after the Hurricanes' disappointing start to the season and talk of Mario Cristobal leaving Oregon for Miami rises. Diaz's time in Coral Gables ends with a 21-15 overall record and 16-9 mark in ACC play.
"We are grateful to Coach Diaz for his many contributions to our campus community and to his native South Florida, and for the strong leadership and exemplary character he exhibited during his tenure at the University," Miami President Julio Frenk said in a release. "We wish him and his family the very best as they move forward."
Diaz won the final two games of the regular season, but any chance he had of saving his job left when Miami blew an eight-point fourth-quarter lead against Florida State embarrassing fashion. The Hurricanes also lost in two bowl games under Diaz.
Per FOX's Bruce Feldman, Diaz's buyout is north of $8 million and a handful of assistants have multi-year deals. In what has been a wide open ACC Coastal Division the last three seasons, Miami was never truly a factor.
When he took the job in 2019, expectations were high that Diaz would be the one to turnaround Miami. Mark Richt had some success with the Hurricanes, going 10-3 in 2017 and winning the ACC Coastal Division. But in his final season before retirement, the Hurricanes went 7-6.
The first-time head coach was never able to capture the success. His best season came in 2020, as the Hurricanes went 8-3.
Diaz, 47, joined the Miami program ahead of the 2016 season when the Hurricanes hired Richt. Named defensive coordinator, he was a nominee for the Broyles Award in his opening season. His defense ranked No. 4 in the nation in total defense in 2018, and he took the head coaching job at Temple shortly after the season. Just two weeks later, he was headed back south to take the Miami job after Richt's retirement.
Pressure has been building all season for Miami to make a change. Hurricanes athletic director Blake James addressed the situation in October in an interview with the Miami Herald.
"We need to win games," James said. "Manny knows we need to win games. And he and his coaching staff are doing everything they can to put our guys in position to win games."
Impact of injuries on Manny Diaz's tenure at Miami
Manny Diaz has not caught a break on the injury front this season, making a real impact on Miami's success this season.
Starting quarterback D'Eriq King injured his right throwing shoulder against Michigan State in September and was ruled out for the season in early October. The former Houston quarterback was in the Heisman conversation headed into the season and considered one of the top dual-threat quarterbacks in the country.
The Hurricanes also lost their starting running back to a season-ending injury. Redshirt junior Cam'Ron Harris tweaked his right leg in Miami's loss to North Carolina.
Star safety Bubba Bolden suffered a season-ending injury, too. The teams leading tackler, a shoulder injury has sidelined him and requires surgery. Offensive linemen Jalen Rivers and Corey Gaynor were ruled out for the year, too.