Mario Cristobal provides injury update on Zion Nelson ahead of Week 1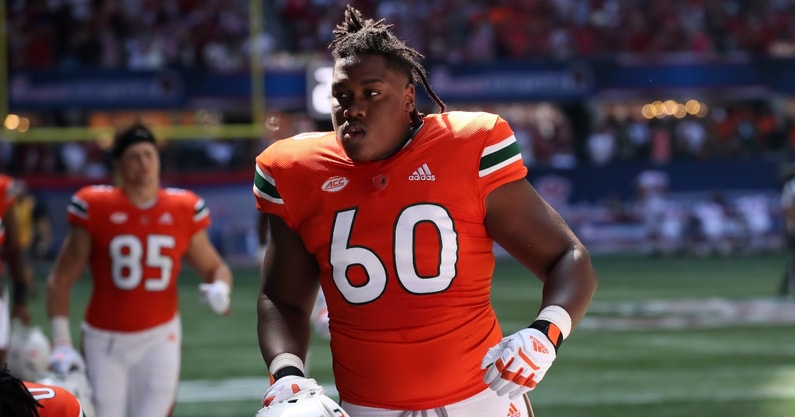 Miami Hurricanes head coach Mario Cristobal gave an injury update today on left tackle Zion Nelson, who received cleanup surgery this offseason.
"He's getting closer, can't guarantee he's going to be ready for game one. We'll know more by Tuesday or Wednesday, probably Wednesday. You know if you had a practice with him today, and run a full practice, probably feel good about that. If you had to play a game today it's pretty close, and we hedge on the side of safety, which is really important, and he knows that," Cristobal said.
Nelson is a valuable piece to the Hurricanes offensive line, showing improvement every single year for Miami and had a historic season for the ages last season. According to Pro Football Focus, Nelson finished last season with the highest pass-blocking grade in recent school history grading out at 85.3, the second-highest grade ever for a Hurricane only behind former first-round pick Ereck Flowers in 2014.
Nelson was also voted All-ACC Preseason First team as he's slated for another big year, and he's eager to have another one according to Cristobal. Cristobal applauded players like Nelson and running back Jaylan Knighton for their determination to get back on the field, but will always prioritize their health first.
"It's a good thing about guys like him and guys like Knighton, you gotta hold them back. It's always difficult when you have to urge a guy to come on man, let's get going, so those two guys are competitors that want to play and want to win, they really do. They want to see all the hard work get put to good use, so hopefully we'll get good news throughout the course of the week and we'll get that to you as soon as we can," Cristobal said.
Miami offensive tackle Zion Nelson produces top-two pass blocking grade in program history
Miami Hurricanes offensive tackle Zion Nelson is one of the best pass blocking tackles to ever suit up for the Hurricanes, and he has the numbers to prove it. According to Pro Football Focus, Nelson had the highest pass-blocking grade in recent Hurricane history last season. His grade of 85.3 is the second-highest since 2014, just behind a former first-round pick Ereck Flowers.
The six-foot-six junior tackle out of Sumter, SC, had to spend some time honing his craft when he made it to the college level. According to On3's recruiting database, Nelson is a three-star recruit from the 2019 class. He was the No. 1,353 rated player in the country. Nelson was the No. 121 ranked offensive tackle and 27 best player to come out of the state of South Carolina.
If the Hurricanes want a chance to compete for the ACC crown, they will need a repeat performance from Nelson this season. But not just him, the rest of the offensive line has to contribute to keeping young talented quarterback Tyler Van Dyke upright for the entire season. And if he can do that, he can repeat that level of productivity, he could follow in Flowers's footsteps and become a first-round pick.