WATCH: Kenneth Walker III for Heisman Trophy campaign in full swing at Michigan State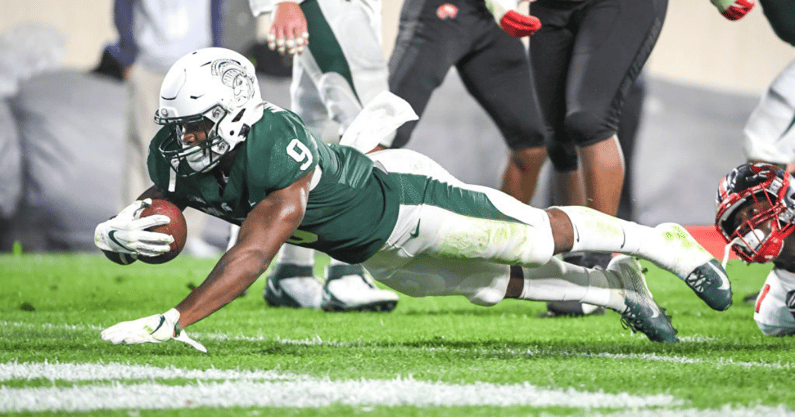 Michigan State is not being subtle in their new campaign to get star running back Kenneth Walker III the Heisman Trophy.
On Wednesday, the Spartans tweeted a video as part of their campaign, highlighting the junior's unbelievable first half of the season:
The race for the award for the top player in college football is narrowing and Walker is now fourth, according to odds-makers in Vegas.
Alabama sophomore QB Bryce Young still has the best odds through six weeks at +185 but the distance between him and Ole Miss's dual-threat Matt Corral has shortened. Ohio State quarterback C.J. Stroud is also inching closer to the top of the odds chart, moving from +1800 after Week 5 to +1000 after Week 6.
Kenneth "Runner" III
Walker posted his second 200+ rushing game of the season on Saturday versus Rutgers. He ran for 232 yards and one score in the win. He averaged a whopping eight yards a carry.
Through six games, he's the only running back in the country to post more than 800 rushing yards. He's totaled 913 yards and nine scores. On top of the rushing yards, Walker's also caught four passes for 30 yards and one touchdown.
Alabama alum Derrick Henry was the last running back to win the Heisman in 2015 but the Michigan State star, as well as Texas standout Bijan Robinson, is making a strong case to make 2021 another such year.
Kenneth Walker hails from Arlington, Tennessee, where he was a three-star prospect coming out of high school. Walker had just nine D-I offers as a senior in high school. He originally signed with Wake Forest before transferring to Michigan State for the 2021 season.
The Spartans' campaign isn't just running on social media with the hashtag #K9ForHeisman. They also took the campaign to the Big Apple: