Former Michigan star Devin Gardner nominated for an Emmy with Bally Sports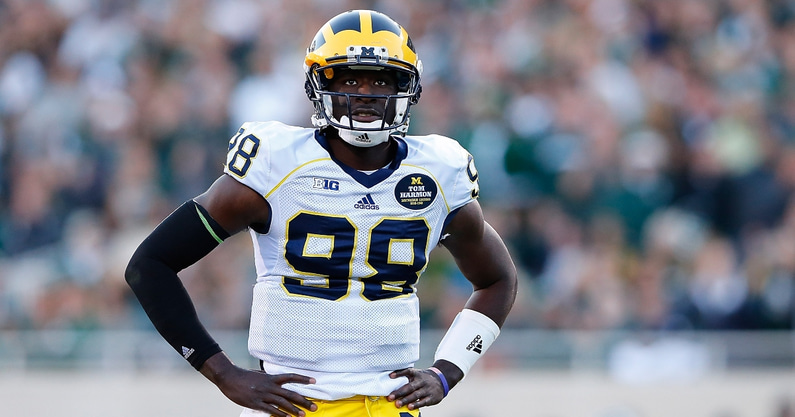 Former Michigan star quarterback Devin Gardner has made his transition off-the-field rather smoothly into the realm of sports media. On Thursday evening, he announced on his Twitter page that he's been nominated for two Emmys at the 2022 Michigan Emmy Awards for his work with Bally Sports.
Per his Twitter announcement, Gardner has been nominated for an Emmy in two separate categories: sports analyst and sports interview in his segment, "Forward Progress with Devin Gardner." Bally Sports is a regional sports network group that was officially re-branded/launched as Bally Sports on March 31, 2021. The old name of the networks was Fox Sports Network.
Devin Gardner broke a number of records during his time as Michigan's signal-caller
In his college football playing career, Gardner shattered a number of records and demonstrated his electrifying rushing ability for the Maize and Blue. On Oct. 19, 2013, against the Indiana Hoosiers, the dynamic dual-threat eclipsed John Navarre's single-game passing yardage record with 503 yards. Gardner also broke Denard Robinson's single-game total yardage record with 584 yards of total offense.
In the 2013 season, he completed 60.3 percent of his passes, while throwing for 2,960 passing yards and tossing in 21 touchdowns with 11 interceptions. He also shredded opposing defenses on the ground to the tune of 483 rushing yards and 11 touchdowns on 165 carries. For his entire Wolverine career, Gardner completed 60.4 percent of his passes for 6,336 passing yards, while tossing in 44 touchdowns and 32 interceptions. As a runner, he rushed for 916 yards on 342 attempts, piling up 24 total touchdowns.
Gardner was one of the most decorated prospects in the nation, coming out of Inkster High School (Inkster, Michigan). Blessed with dynamic running ability and tremendous versatility, he established himself as one of the top quarterback prospects in the country coming out of high school. Gardner suited up in the Under Armour All-American Game. He was the No. 2 signal-caller in the 2010 cycle, per the On3 Consensus Rankings. Those rankings also had him tabbed as the No. 63 overall prospect, as well. Gardner impressed many recruiting analysts and scouts across the country with his performance at the Elite 11 quarterback camp, too.