Four-Star RB Jordan Marshall commits to Michigan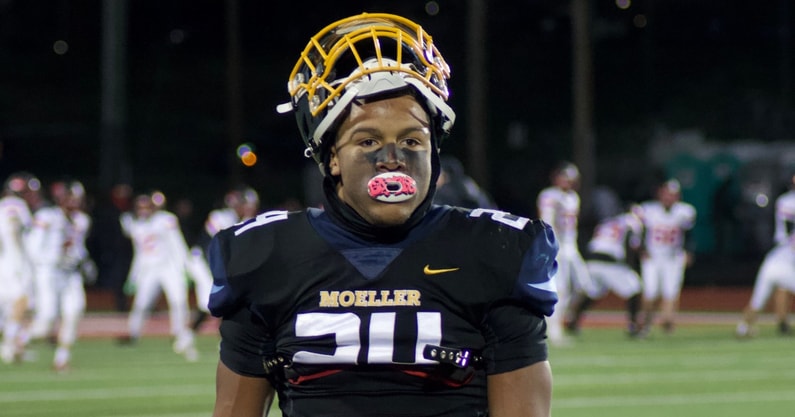 Four-star running back Jordan Marshall of Cincinnati (OH) Archbishop Moeller High announced his commitment to Michigan Tuesday afternoon.
The 6-foot-0, 195 pounder chose the Wolverines over Ohio State, Tennessee, and Wisconsin.
Marshall on why he chose Michigan
"Family was the biggest thing for me. Being with coach Hart's family and meeting them really meant a lot for me. See how much his family means to him and him knowing what family means to me. Also just the community and culture there. It feels like home every time I step into that building and it's a freaking amazing place. They have one of the best institutions in the world and I take pride in that and know I have to have a plan after football. I think Michigan gives me the best opportunity. Last one they WIN. I'm trying to play for national championships. Not just big 10 champs. But world champions."
Relationship with coaching staff + how they plan on using him 
"It's amazing. Me and coach Hart are like the same person and I really appreciate that. I am also super close to Coach Clink. We have grown a relationship just with life and I feel comfortable talking to him about anything . They plan to use me in every way they can in the back field . Passing, running, and blocking and whatever else I can do to help my team win.
What it means to be from Ohio and commit to the rival school
"It's going to be crazy. Some of my friends are big OState fans, so is my papa. But he is going to start rooting for Michigan. I'm excited to play those guys. Just know after Blake and Donovan leave, just know that we are coming back to run that ball !
Marshall ranks as the No. 81 player in the On3 Industry Ranking, a weighted average that utilizes all four major recruiting media companies. He also tabs in as the No. 5 running back and the No. 3 player in the state of Ohio.
Jordan Marshall currently has an On3 NIL Valuation of $112K. The On3 NIL Valuation is the industry's leading index that sets high school and college athletes' projected annual value (PAV). The NIL valuation does not act as a tracker of the value of NIL deals an athlete has completed to date. It rather signifies an athlete's value at a certain moment in time.