Jett Howard leaves Michigan-Michigan State game with injured right ankle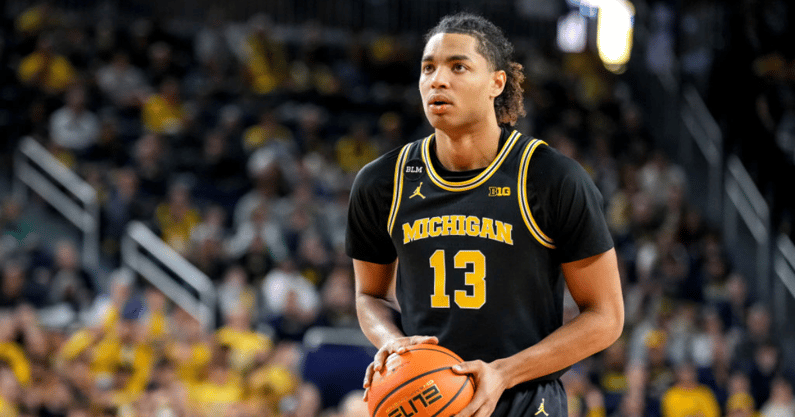 Jett Howard, a star freshman for Michigan, left Saturday's game against Michigan State with an apparent right ankle injury. He injured it landing on the foot of MSU's Joey Hauser while coming down from a shot attempt.
After a brief period down on the floor at Crisler Center, Howard got up and made it to the Michigan bench. Once there, he pulled his right leg up to his chest, wrapping his arms around his leg and sitting still for a moment.
As trainers began to work on the ankle and leg, Howard could be seen in intense pain, wincing and gesticulating on the sideline, even leaning over on to the chair next to him and covering his face.
Howard missed a game against then-No. 1 Purdue earlier in the season after hurting his left ankle against Minnesota.
Jett Howard ruled out for Michigan vs Purdue due to injury
Michigan will be without star freshman Jett Howard Thursday night against Purdue, a school spokesperson told Stadium's Jeff Goodman. Wolverines coach Juwan Howard previously said he wasn't sure if his son would be able to play after going down with an injury earlier in the week.
Howard suffered an ankle injury in Michigan's win against Minnesota on Sunday, and his status became unclear going forward. He only played 15 minutes in that game and was later seen in a boot.
Juwan Howard said he didn't have a timeline on how long Jett would be out with the injury immediately afterward.
"No, I don't have any information to give you on Jett, other than, as you saw, he was in a boot," Juwan explained. "He came back out there to the second half to support his teammates, which was great. Feel sorry for the young man because I hate missing basketball. He's in love with the game of basketball and wanted to help his teammates on both ends of the floor."
Jett Howard has been a key piece for the Wolverines this year and is a potential first-round pick in the 2023 NBA Draft.