Josh Gattis: Hassan Haskins 'is everything' to Michigan offense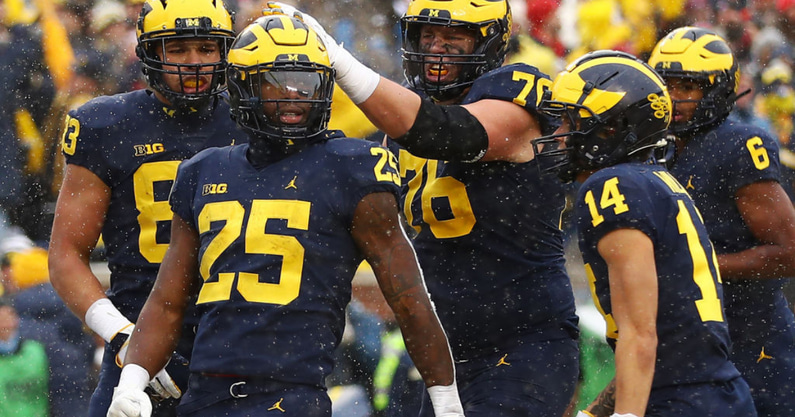 Michigan has quite a two-headed monster at running back with Hassan Haskins and Blake Corum. But Wolverines offensive coordinator Josh Gattis said one of them is essential to the Michigan offense.
Haskins is the Big Ten's No. 4 rusher with 99.08 yards per game and Corum is No. 7 with 85.36. Michigan is the only Big Ten team to have two players in the top ten in rushing.
Ahead of Friday's Orange Bowl showdown with Georgia, Gattis was asked about Haskins and if one play that stands out from this year. His response showed the impact the senior has had on Michigan this season.
"Hassan is everything to us," Gattis said. "We absolutely love him. I don't know if you can actually list out one specific play because he creates so many wild plays, whether it's hurdling guys or it's extra effort, short-yardage plays where he's running over defenders in a hole. He's a guy that when you talk about a physical back and how you want to build your backs, he's the exact prototype of what you want to build your running back room around. He's done a tremendous job carrying the load for us, and really he had some tough tasks to go along at the midpoint of the season when Blake was down and Donovan was down. We really put the load on his back and he carried us there for about three games, just being the solo back.
"When you've got a guy with his ability, his talent, his vision, his physicality, it makes him pretty complete. I wish we had him around here for another four or five years, but we're really, really proud of what he's accomplished and everything he's done to this point."
More on Hassan Haskins
Haskins' biggest game this season came at a great time. Michigan defeated Ohio State for the first time in 10 years — thanks in large part to its star running back. Haskins put Michigan on his back, too, rushing for 169 yards and five touchdowns to lead the charge.
It won't be easy to have that kind of success against Georgia, though. The Bulldogs have the No. 2 rushing defense in the country, holding teams to 81.69 yards per game on the ground this season.
Between Haskins and Corum, Michigan has two great weapons in its backfield. The challenge against Georgia will be to break through that stout Bulldogs defense.