Juwan Howard analyzes Michigan's depth, how the team has been able to gel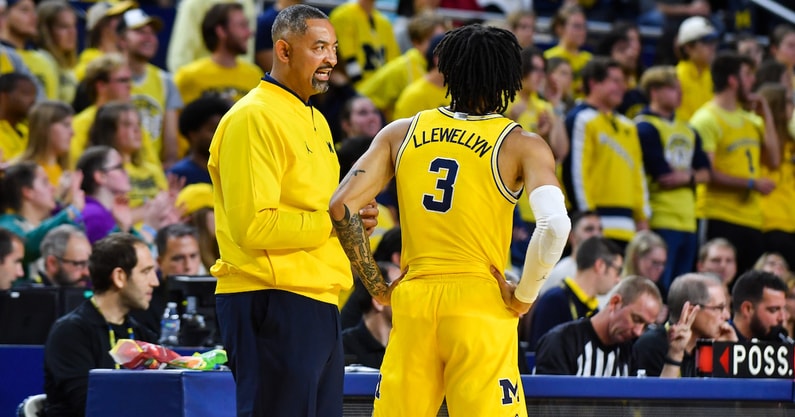 The Michigan basketball team, outside of Hunter Dickinson, is very different than it was a year ago. And head coach Juwan Howard said after a season-opening win that that he's still trying to feel out the group.
Including bringing in Jaelin Llewellyn as a transfer from Princeton to run the point, Michigan's starting lineup for opening night 2022 was vastly different from the group to start last season, with Dickinson as the only holdover. Along with Howard's younger son, Jett Howard, forward Terrance Williams II and guard Kobe Bufkin also got the start for Michigan.
"There are going to be so many different lineups, or maybe so many different guys that may play one game, some may not play one game, because we have a deep team," Howard said. "But we also have a team that's still growing. And we are young. There are going to be some moments where you see one guy might not play one game. He may play the next game."
CLICK HERE to subscribe to the On3 YouTube channel today for all of the latest news on college football, recruiting, NIL, more!
Nine Wolverines played at least double-digit minutes in the win against Purdue University Fort Wayne, with Duke transfer Joey Baker and true freshman point guard Dug McDaniel getting the most significant run off the bench, playing 16 and 14 minutes, respectively.
Baker was particularly effective in his minutes, serving as a spot-up shooter that must be respected by defenders — something Michigan consistently lacked last season. He went 3-of-6, all on 3s, and grabbed three boards to go with an assist and a blocked shot.
If Baker keeps making 3s at a high clip, he'll surely cement himself in the rotation.
"He's played at Duke in one of the best conferences in college basketball, the ACC. Played for a Hall of Fame coach," Howard said of Baker. "So he's been coached and the kid knows how to play. One of his strengths is shooting and I don't want him to pass up any open shots. Let it fly. Make or miss, we live with the results."
Dickinson was his usual self for the Wolverines, and will be the main attraction most nights — he finished with 22 points and 12 rebounds, leading all scorers.
But the flashiest performance on Monday for Michigan was easily from Jett Howard, a true freshman and aforementioned son of the head coach — his older brother, Jace Howard, is also on the team and played 12 minutes.
Jett played 31 minutes, scoring 21 points while shooting 5-of-10 on 3s and making some flashy assists along the way. It was one game against lesser competition, but more performances like that will give dad no choice but to cut his younger son loose.
With 29 games left in the regular season, the eldest Howard is going to be patient for now.
"But I'm still feeling the group out," Juwan Howard said. "And we're not there, where we want to be, yet. We have a long season. It's the first game."