Juwan Howard discusses Michigan surviving a 70-66 overtime scare vs Ohio Bobcats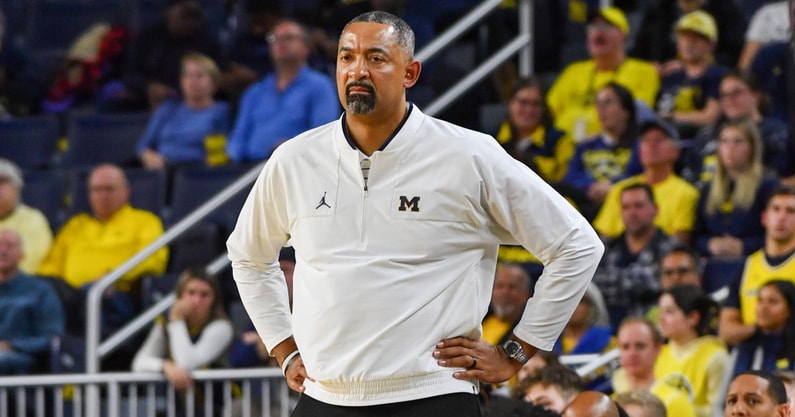 There were many nerve-wracking moments on Sunday night for the 20th-ranked Michigan Wolverines. They needed overtime to pull off a 70-66 victory against an upset-minded Ohio Bobcats squad. Ohio led Michigan for 27 minutes of the contest and they were even up 61-55 with 3:52 left in regulation. But the Wolverines were able to battle back in the final few minutes, thanks to some stingy defense. Ohio forced overtime after they had one of the most miraculous full-court passes of all-time. Dwight Wilson III ended up hitting a putback bucket at the buzzer to tie the game at 63-63 to send the game to overtime. Ohio went cold in the extra period and the Wolverines were able to survive. Following the nerve-wracking victory, Michigan head coach Juwan Howard spoke with Rapheal Davis of The Big Ten Network on the Wolverines' court.
Michigan head coach Juwan Howard discussed his thoughts following the nerve-wracking victory over Ohio
First, he spoke about his team's mindset heading into overtime.
"Well, first off, I saw our guys kind of quiet. And body language. I read body language. You know, for a second, I was thinking, 'Is there doubt? Do we feel like we're not supposed to be in this situation?' So, I told them that in order for you to get comfortable, you've gotta have uncomfortable moments. And I thought in five minutes. That's the time when we've gotta of course, grow. We're gonna learn through this moment right here. And I love the fact how our guys responded after that talk," Howard said.
CLICK HERE to subscribe for FREE to the On3 YouTube channel
The Michigan head coach also discussed what his team needs to work on in the next few days moving forward.
"Well, you know, every time you step on the floor, no matter if you win or you lose, there's always teachable moments. So, we're gonna go back and watch the film. And we're gonna get back to…habits. And habits are how we can do a better job of…A) being ready when the tip-off [happens] and also do a better job of defending. I did not like how our defensive disposition was presented for this ballgame," Howard said.
Michigan was carried by a dominant performance from their superstar center, Hunter Dickinson, who poured in 24 points and grabbed 14 rebounds.
Howard discussed the heroic performance from his big man, who was battling an illness.
"You know, Hunter's a gamer and he's also a competitor. And I love the fact that, despite the illness that he was dealing with today, he came and laid it on the line for his team. And that's what leaders do. And he got you going at the end of the first half. And then from there he didn't look back. And I love how he responded when his team needed him," Howard said.
Ohio was led by their big man, Dwight Wilson III, who poured in 21 points and grabbed nine rebounds in 34 minutes of work.
Next up, Michigan will take on Jackson State on November 23rd. Tip-off for that one is set for 8:30 p.m. EST on the Big Ten Network.