Michigan being national championship or bust adds to hype for 2023 season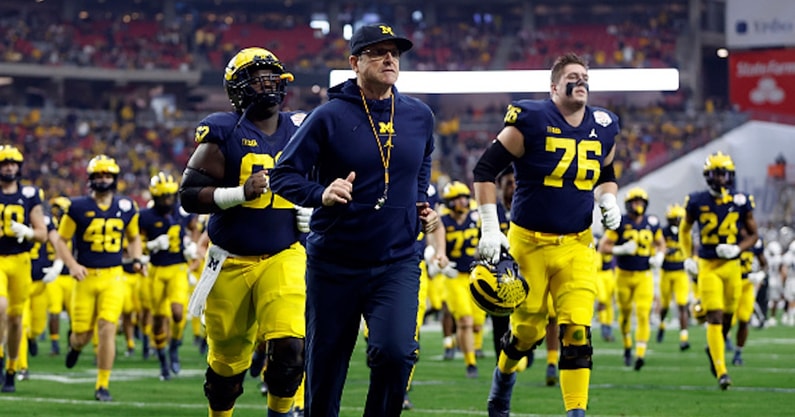 There's a lot of hype surrounding the Michigan Wolverines and a national title in 2023. On3's J.D. PicKell pondered what kind of hype this fall with those expectations for the Wolverines.
After two straight Big Ten titles, the Wolverines want more. But can they live up to the hype?
PicKell broke it down on The Hard Count.
"The Michigan Wolverines are one of the most hyped teams in the country," PicKell said. "Now hype kind of has a negative connotation to it. And the connotation is, well when you say hype that means they haven't done anything yet. No, no, I just mean there's excitement when I say hype around Michigan. Michigan has done a whole heck of a lot … Back-to-back Big Ten champs and back-to-back victories in the most important game of the regular season for them against Ohio State, in convincing fashion might I add, and a lot of pieces back."
Michigan lost a good amount to the NFL Draft, but the crux of the team is back for 2023, looking for a third straight Big Ten title and possibly Michigan's next national title.
"Blake Corum said run that back one more year, J.J. McCarthy another year as a starter, Donovan Edwards, pieces on defense, continuity at the coordinator position now with Sherrone Moore fully taking over the offense," PicKell said. "There's a lot here at Michigan that you already know. And that's the reason why there's hype. But the reason why I put the hype label on them in a positive way, they have reset the standard at Michigan.
"Because a couple of years ago they would have said 'Great we beat Ohio State, cool man …' We are happy as can be (by winning the Big Ten and getting to the CFP) two years in a row … Then you start to say well, what else could we pair with this Big ten title and victory over Ohio State, what else? What else can we get?"
It's at this point that Michigan has to put itself into the national title conversation and actually get to the big game. A blowout loss to Georgia and a heartbreaking loss to TCU sum up the end of the Wolverines' last two seasons.
"It's like when you get a 3.9 GPA for two semesters in a row. There's a point where (you don't want) to get a 3.9 GPA anymore," PicKell said. "You were happy with it at first … But there's a point where you're like, man, what would it be like to have a 4.0? What would it be like if Michigan were win a national title again? What would it be like to bring that hardware back to Ann Arbor? That's now the standard they've set."
Big Ten titles are great, but national titles are better.
"They're not expected to just win the Big Ten, it's still not good enough just to beat Ohio State now, the expectation is national title or bust," PicKell said. "That is it. Nothing less than a national championship is acceptable. That's why Jim Harbaugh is not listening to the NFL right now. That's why Blake Corum came back, like all these things. are piecing together now from Michigan which equates to unfinished business."