Former Big Ten running back of the year to return for sixth year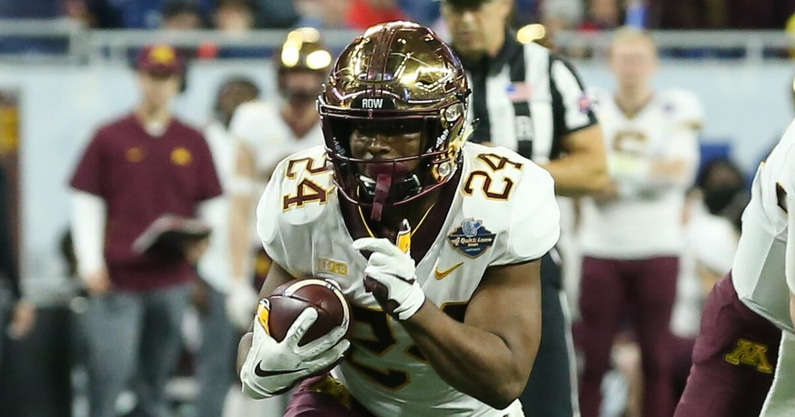 Minnesota Golden Gophers running back Mohamed "Mo" Ibrahim made a huge call on Wednesday. He announced he's opting to return to the program for his sixth year of eligibility.
Mo Ibrahim, the Big Ten's 2020 running back of the year, is seventh in Mel Kiper's latest position rankings for the 2022 NFL Draft. Despite that, after suffering a season-ending Achilles injury in Week 1, the redshirt senior feels he has unfinished business with the Gophers.
"I was so excited to run out of the tunnel with my teammates again, it was everything I ever dreamed of … Then it happened," Ibrahim narrated in his announcement video. "The season I'd been dreaming of all offseason was just gone, in the blink of an eye.
"It's been a grind the last three months. With that being said, I'm excited to announce I'll be coming back for the 2022 season. I can't wait to be back with my brothers, teammates, the coaches, the culture, the University of Minnesota and the state. Minnesota, it's time to row."
Gophers lose Ibrahim for 2020
The Gophers were prepared for a bounce-back year, led by their senior captain running back Mo Ibrahim. But an unlucky step ended the Maryland native's year after just 30 rushes for 163 yards versus Ohio State. Those stats moved him into eighth place on the program's career rushing yards list (3,003).
Without the senior, Minnesota has gone 7-4 on the year. Their running game, however, is still very good. The running back by committee situation, with three RBs all totaling over 500 yards this season, has the Gophers' run game ranked No. 23 in the country.
Prior to his injury, Mo Ibrahim earned second-team All-American preseason honors from the AP. In 2020, he rushed for 1,076 yards and 15 touchdowns on 201 carries. He also rushed for over 1,000 yards in his redshirt freshman season in 2018.