Ole Miss 4-star WR commit Noreel White visiting Mississippi State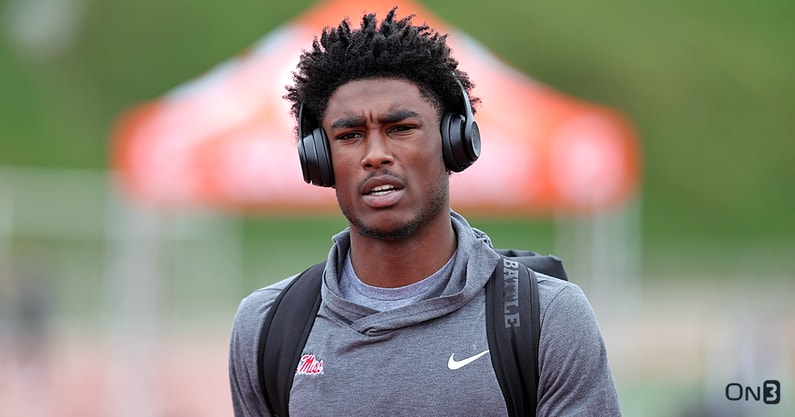 Ocean Springs (Miss.) St. Martin four-star wide receiver Noreel White flipped his pledge from Arkansas to Ole Miss on Aug. 25, giving Lane Kiffin and Co. another big in-state win on the recruiting trail. The Rebels were relentless in their pursuit of the wideout, even when he originally committed to the Razorbacks.
"Ole Miss just stayed with me," White told On3. "They have been very consistent with me and they never gave up on me. That meant something. They showed me I was important to them and how much they care for us in-state guys. Ole Miss made me feel like I can stay home and be one of the best receivers in the program."
While he's currently set to head to Oxford, that's not stopping the other big program in the Magnolia State from trying to pull off a second SEC flip. White is in Starkville, visiting Mississippi State as the Bulldogs kick off their 2023 season.
White is the No. 310 overall prospect and No. 52 wide receiver in the 2024 cycle, according to the On3 Industry Ranking, a weighted average that utilizes all four major recruiting media companies. He's also the No. 9 player in Mississippi.
Zach Arnett and Miss State have gotten White on campus twice during his recruitment before Saturday. He visited in March, but the Bulldogs remained behind Arkansas and Ole Miss. The Rebels had White in Oxford at the end of July, leading to the big flip.
"They started recruiting me in the 10th grade and I have been up there three times," White said of the Rebels. "I love the environment. I don't know how to explain it. It just feels good. I can talk to people there about anything, and there is more to Ole Miss than just football. They want the best for their players after football."
"Coach Kiffin's system is great for me," he added. "He is an offensive mind and he runs an exciting offense. We have a good relationship and he has that system I can do well in. Coach Kiffin is a cool, chill and laid-back. He has a great plan for Ole Miss and now he is working hard to keep the best in-state players home. That is going to make a difference."
White is the sixth highest-ranked player in Ole Miss' 2024 class, which ranks No. 21 in the nation, per the On3 Industry Team Recruiting Ranking. Other big in-state commits include Lake Cormorant (Miss.) four-star defensive lineman Kamarion Franklin, Bay Springs four-star DL Kamron Beavers and Pascagoula four-star DL Jeffrey Rush.
Mississippi State's class ranks No. 29 in the nation and is also headlined by a bevy of in-state commits. Sardis North Panola four-star WR JJ Harrell, Madison IMG Academy four-star interior offensive lineman Jimothy Lewis and Starkville four-star WR Braylon Burnside are all top-250 prospects.