NC State Wolfpack recruiting rundown with The Wolfpacker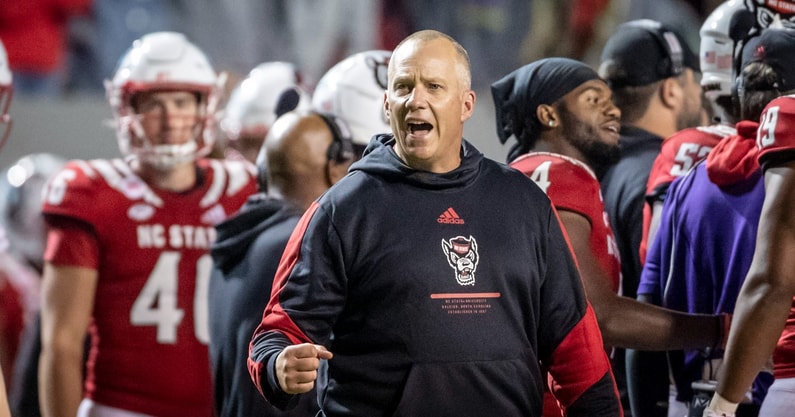 NC State coach Dave Doeren has had his work cut out for him on the recruiting trail this season. That's largely because the Pack is going to sign a smaller than normal recruiting class because of the makeup of the roster.
Yet, there's still a lot to like about what NC State has in place. It's a 2022 class that features three four stars, nine three stars and an average rating of 86.23.
With 40 days until the start of the early signing period, the NC State class also ranks No. 47 in the On3 Consensus Team Recruiting Ranking, the most advanced and accurate team ranking in the industry.
On3 talked with The Wolfpacker's Matt Carter about NC State's top commitments, which Pack coach has dominated the recruiting trail and what questions need to be answered during the final stretch.
Who is the most important target still on NC State's recruiting board?
"NC State is in a bit of a unique position. They have a handful of offers out to high schoolers, but not many. At this point, more focus has been placed on older players that are either in junior colleges or transfer portal entrants. 
"But in terms of the 2022 high school class, NC State is still looking at offensive tackles and made a recent offer to fast-rising Jacarrius Peak from Valdosta (Ga.) High. Peak has picked up nine Power Five offers since Sept. 30 (if you count future Big 12 members Houston and UCF as Power Five). It also really liked Jalen Klemm, son of Adrian Klemm, a former NFL offensive lineman and now that positional coach for the Pittsburgh Steelers. Klemm visited NC State in July but has led a very under-the-radar recruitment."
What is the most important position(s) still to fill and the main targets to fill those spots?
"This question will probably be answered by decisions of those who have the chance to come back for super senior years or choose to move on. But judging by a few recent offers to junior college players, the secondary might be an emerging position of need. The Pack made the top 12 for Keionte Scott from Snow College but faces stiff competition there. 
"The other was to Marquise Gilbert from Hutchinson (Kan.) C.C. He's a Florida native who started at Bethune-Cookman before going the JC route and it's paying off. He's up to nearly 15 Power Five offers now."
How many will NC State sign in this class and why? Will they hold some spots for the transfer portal?
"It will be a small class. The original projection we had heard was in the 12-15 range, simply because of the NCAA freezing eligibility last year. There are signs that number could inch up a few more spots as a few players have put themselves onto the NFL radar this season. 
"The Pack last year made a decision to be active in the transfer portal as an effective way to shore up immediate deficiencies on the depth chart and signed four players. All four have started at least a game this year and made impacts in the ways NC State hoped. The Wolfpack staff believes it is an effective strategy and will continue to utilize it."
Who is the most important commitment in NC State's 2022 class?
"I'm going to cheat and go with two. Former Miami commit Brandon Cleveland from Tampa (Fla.) Carrollwood Day is having a big senior season and pops out on film. He's athletic and also has the size NC State looks for to play in its 3-down front defense.
"The other is linebacker Torren Wright from A.L. Brown in Kannapolis, N.C. NC State identified Wright very early in his high school career, and he was long a priority on its recruiting board.
"Both are On3 Consensus four-stars."
What are recruits saying about NC State's season? Has the play on the field helped them with prospects?
"I think the biggest thing is it has seemed to eliminate, thus far, any concerns about defections from the class. There were some rumors that school may go after NC State's quarterback commit MJ Morris from Carrollton (Ga.) High, for instance, but he seems solid for the Wolfpack.
"Almost all the commits were at the NC State win over Clemson and raved about the game-day experience. Quite a few of them joined the fans in rushing the field.
"The bigger impact though is going to be felt in the 2023 class. UNC has had a lot of recent success in-state because it had buzz after Mack Brown's arrival and his first couple of years, but some of that has waned after a so-so year thus far for the Heels.
"You are seeing top in-state players like four-star lineman Jamaal Jarrett from Grimsley High in Greensboro take a stronger look at NC State. Jarrett recently visited for the win over Louisville and gushed about it in an interview with us."
What will be the biggest recruiting surprise between now and the early signing period?
"My guess will be the emergence of a player or two in the transfer portal. NC State has a chance to be a popular destination for players seeking a fresh start. The program is on solid grounds, has a good track record with transfers and is sneaky good at putting players into the NFL. Those are the types of things a lot of transfers are looking for when they hit the portal."
Which NC State coach has done the best job recruiting in the 2022 class?
"I'll give it to defensive line coach Charley Wiles, even though cornerbacks coach Brian Mitchell landed his two top targets in the eastern part of the state, On3 Consensus four-star running back Michael Allen and three-star corner Jackson Vick, who the Pack really likes.
"Wiles, though, played a large role in a good three-player d-line class that is headlined by Cleveland. Three-star Nick Campbell from Lake Minneola (Fla.) High picked NC State over a baker's dozen other Power Five offers, and three-star D.J. Jackson from Sumter (S.C.) High spurned home state South Carolina for the Wolfpack."