Jaxon Smith-Njigba details mindset after Michigan loss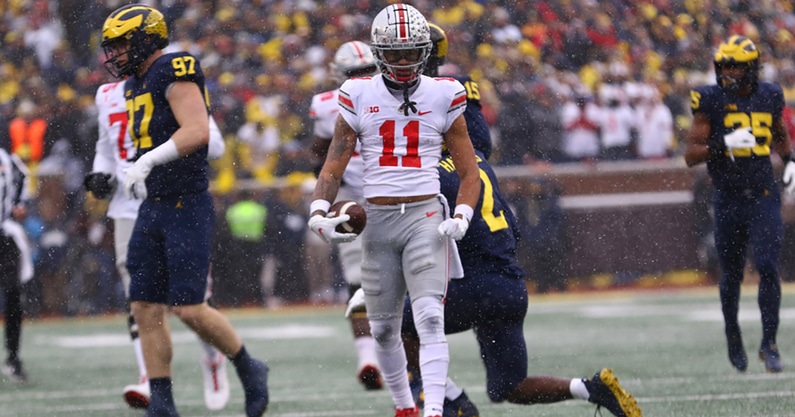 Ohio State's perennial success on the gridiron means that everyone outside of their loyal fanbase cannot wait to see the Buckeyes fall, especially when the stakes are the highest. This was the case during last year's rendition of The Game between Ohio State and Michigan. The Wolverines came out on top with a 45-27 routing of the Buckeyes, leading the way for Michigan's first College Football Playoff berth and knocking Ohio State out of the conversation.
While the Buckeyes went on to win the Rose Bowl in a 48-45 shootout against Utah, star wideout Jaxon Smith-Njigba couldn't shake the Michigan loss out of his head and has since used it for motivation over the course of this offseason.
"When your season is over so to speak, you look back and ask why and what you could have done wrong. That's a game where we can pull a lot of things from," Smith-Njigba said. "You just see the scoreboard and that's motivation. You don't really need too much, but we're going to talk about it, we're going to speak on it and grow off that and hopefully come back with a different outcome."
The win for the Wolverines was the first over Ohio State since 2011, where the Buckeyes won the last eight before falling to Michigan in Ann Arbor last November. To Smith-Njigba and the rest of the returning players who participated in the matchup – it has reinvigorated the rivalry from the Ohio State perspective, who are looking to earn that victory back when the two teams meet up for their annual matchup.
"Yeah, I think, I mean I think it did. I think it did because it was a different outcome that we've seen in a minute. So when something like that happens, yeah, it kind of shakes it up."
2022's edition of The Game sit set for Nov. 26, 2022 in Columbus with the time set for Noon eastern with Fox carrying the national broadcast – a game both sides have had circled since the schedule was announced.