Signing Day: Ohio State signs a top-10 class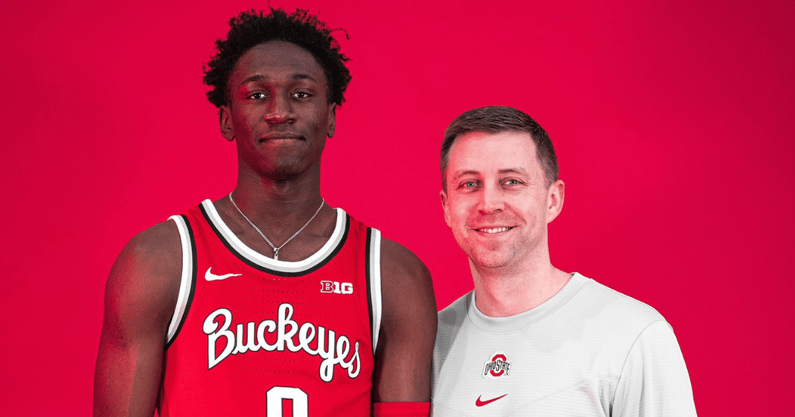 It's not even two o'clock on the first day of the early signing period, and Chris Holtmann has already wrapped up his highest-rated recruiting class at Ohio State.
The Buckeyes' four-man class currently ranks 8th in the 2023 On3 Team Rankings. Their 95.69 class score ranks them second in the Big 10.
*While they do not currently have any scholarships open, it is worth noting Ohio State currently leads in the On3 Recruiting Prediciton Machine for four-star PG Bronny James.
Ohio State's class
Four-star SF Scotty Middleton
Height/Weight: 6-6/175
High School: Bel Aire (KS) Sunrise Christian
On3 Consensus: No. 39
Scotty Middleton moved around growing up, living in South Carolina, Miami, New Jersey, and now Kansas. He played as a junior and senior at Sunrise Christian Academy in Kansas. Before that, he played for The Patrick School in New Jersey.
Middleton is a versatile defender. He has good length and fluid athleticism. Middleton has the length and motor to guard on or off the ball and the size to defend up a lineup. With his feet set, Middleton can knock down a jump shot but is at his best in transition, switching ends quickly. He will need to continue tightening his ball skills and shooting off the bounce; also, extending his range out to the three-point line would help develop an offensive identity. He is most productive when his motor is running hot.
Four-star G Taison Chatman
Height/Weight: 6-3/170
School: Minneapolis (MN) Totino-Grace
On3 Consensus: No. 40
Fridley (Minn.) Totino-Grace won the 2022 state titles in both boy's and girls' basketball. Taison Chatman was a huge reason why the boy's team won. Chatman averaged 13.5 points per game on the season. He is the son of Christine and Tommy Chatham. His brother is also named Tommy Chatham. His brother played at DII Northern State and New Mexico Junior College. He now plays for DII St. Cloud State.
Chatman has a basketball frame with good size and nice length. What stands out the most in his game is his ability to play in the pick and roll. He can make all the reads and does so with a never rushed pace. The motor can get hot and cold, and there are times when he looks disengaged. Chatman has deep range, and he is comfortable off the bounce or off the catch. He is an intriguing 2/1 combo guard who can play off the ball or initiate in certain offensive sets.
Four-star F Devin Royal
Height/Weight: 6-6/210
School: Pickerington (OH) Central High
On3 Consensus: No. 42
Devin Royal describes himself as a three-level scorer. Plus, he says he pushes hard every second he's on the court. "I feel like I'm a three-level scorer that will do whatever it takes for us to win," Royal said. "I just look to make an impact on the court however I can." Royal was often the foremost standout performer on All-Ohio Red, even while playing on a squad with a number of top prospects. After averaging 23.8 points per game in five EYBL games in Louisville to lift his team toward a Peach Jam berth, Royal was named On3's MVP of the Pangos All-American Camp in Las Vegas a little over a week later.
Royal has long arms and a strong frame. The 6-foot-6 forward is an advanced scorer with a great feel. He has touch and range off the catch from three. Royal moves well off the ball, finds the open space in the defense, has great balance, and is squared up at the basket. The foot speed may be a question and would like to see him rebound at a higher rate. He is a tweener forward, but his offensive feel would allow him to play either way. Some similarities to Purdue's Mason Gillis.
Three-star C Austin Parks
Height/Weight: 6-10/240
School: Saint Mary's (OH) Memorial
On3 Consensus: No. 196
You cannot teach size, and Austin Parks has size. Local to Ohio State, Parks is every bit of 6-foot-10 with a body and frame that should grow pretty quickly with a college strength program. He has good hands and an understanding of what he is trying to do with the ball in his hands. There is more pop there than you would think, and he is a two-handed traffic rebounder. He needs to adjust to the speed of the game with the ball in his hands. There is something there, just needs polish and a little TLC.