Ryan Day reveals how the transfer portal has changed the Ohio State staff size, responsibilities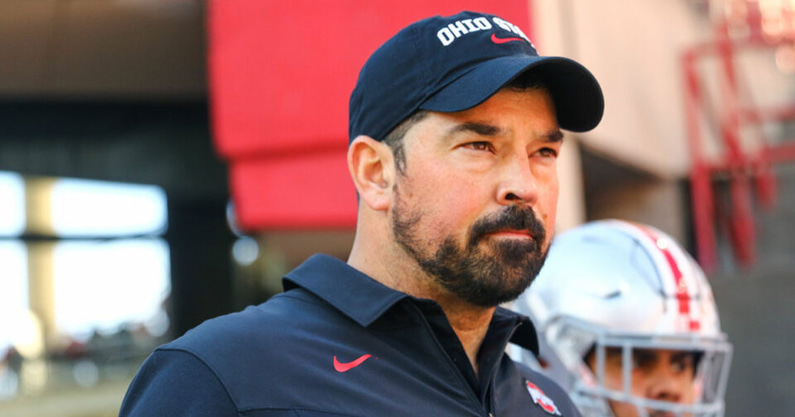 The NIL landscape of college athletics, coupled with the automatic transfer portal rules that have been implemented over the past year has bred way to college athletic taking on a more business-like structure. For the Ohio State football team, head coach Ryan Day wants to make sure that the Buckeyes at the forefront of it all.
"We named Mark Pantoni the general manager this year for that very reason to try to start to go down that road, because we do see it very much like that," Day said about college athletics becoming more like the pro's. "We're not there right now, but it very well could be headed that way. And so we're trying to structure ourselves that way."
Pantoni's full title is Assistant Athletic Director/General Manager – Player Personnel where he supervises all aspects of the program's administrative duties for recruiting, including film evaluations, on-campus official and unofficial visits, the social media and creative team, travel and roster management, according to Ohio State Athletics.
When Pantoni took the position in 2018, the Ohio State football general manager's job description didn't include anything regarding to the transfer portal. Now, it's at the forefront of his daily duties.
"We've hired some guys to, specifically, their job is to study the [transfer] portal and what's out there. So just like in the NFL, they have a pro scouting department and a college scouting department," Day said. "We have a high school scouting department and now a college scouting department to look at the guys who were in college and in the portal, and then the guys who were looking at the high school guys, so the personnel department has become bigger. And I do think the general manager position will take on a bigger role going forward."
Despite Ohio State's advances into the portal through its coaching staff, the Buckeyes only managed to acquire two players this offseason through the portal in former Arizona State running back DeaMonte Trayanum and former Oklahoma State cornerback Tanner McCalister. Though, the Buckeyes do boast the No. 4 recruiting this past year, according to the On3 Consensus.
The recruiting prowess Ohio State boats on a yearly basis is enough to sustain the program's transfer portal hole. But Ohio State football is a program that demands excellence at all levels – and when they set their sights for something, it more than likely comes into fruition at some point. So the Buckeyes might not be dominating the portal the same way they do the prep ranks, but once they do – the majority of college football teams could be left in the Buckeyes' dust.