Tom Herman tells story about Braxton Miller's fake 'Louis Vuitton' belt, NCAA rules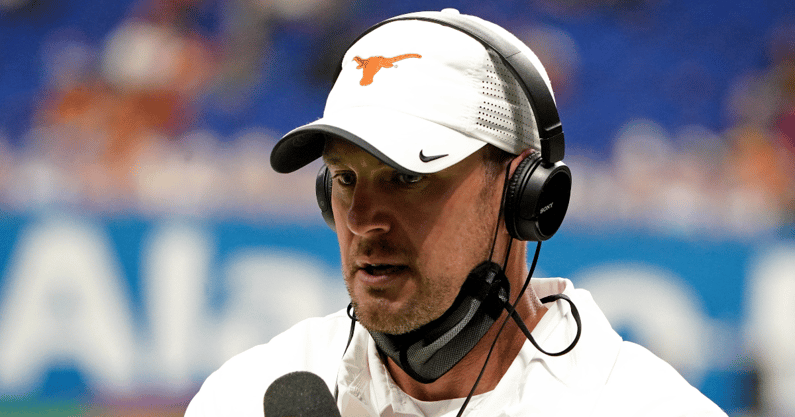 College sports has come a long way in the past couple of years since the NCAA approved an NIL policy, and Tom Herman can attest to that. The now-Florida Atlantic coach used a story from his time as offensive coordinator at Ohio State as an example.
Appearing on the ESPN College GameDay podcast, Herman recalled a memory involving former Buckeyes quarterback Braxton Miller. After Miller appeared to wear a Louis Vuitton belt at an award ceremony, it raised questions about a potential NCAA violation.
That led to a meeting with Buckeyes athletic director Gene Smith, during which Miller explained the belt was a knockoff. Herman then did some digging for himself and realized the hypocrisy of the old NCAA rules.
"We get called — me and Braxton — we get called into Gene Smith's office," the coach said. "Somebody had emailed wondering how a college student can have a $750 belt. Braxton said, 'coach, this is a knock off. I paid $25 for this.' It got me thinking, 'OK, where are we at?' This is 10 years ago. I went to NCAA.org and the .org, I thought, meant nonprofit. Any time you see '.org' at the end of a website, it should be a nonprofit organization.
"I went on their virtual store. For years, people had been skirting the name, image and likeness by just using jersey numbers. We all know who wears this number and that number, but this was so blatant that on the NCAA website (it) said, 'No. 5 Ohio State Braxton Miller jersey.' I thought to myself, 'this is not right.' This kid gets called into the, for lack of a better term, principal's office with his coach to explain a $25 knock-off belt and yet the NCAA, a nonprofit organization, is benefitting from his name and his jersey number. It just felt wrong to me. That is wrong."
Tom Herman raises concerns about use of NIL in recruiting
Now 10 years later, players like Miller can get all the authentic name-brand clothes they want thanks to NIL. Herman believes that is a step in the right direction for the sport as a whole.
"Now we're here," he said. "Sometimes, the NCAA can be 'ready, fire, aim.' We get panicked into making those decisions and I don't think we fully understand the consequences of those decisions. With the decision to let young players profit off of their name, image and likeness, I think we all had the best intentions in the world. We wanted to prevent what was happening to Braxton Miller ever happening again."
However, Herman knows there are still some things to work out. Many have wondered how NIL could affect the parity of the sport as some schools have more money and opportunities to offer than others.
The coach raised a question of the use of NIL in recruiting. Although it serves to benefit bigger programs, he believes schools like FAU could get left in the dust.
"What has happened is it has become a recruiting inducement," he said. I fear that places like FAU, places like Houston are gonna become farm leagues for the 15 highest-grossing collectives in the country. That worries me about our sport. I don't know how you put the toothpaste back in the tube. I wish I had better answers for you. But do I believe in NIL? Absolutely. I think any human being walking the planet, if a market tells you your value is this, then you should be able to command that value. But, when it turns into recruiting, that's when it goes down a slippery slope that I don't know that we can crawl back up from."