Oklahoma State announces details, date for annual spring game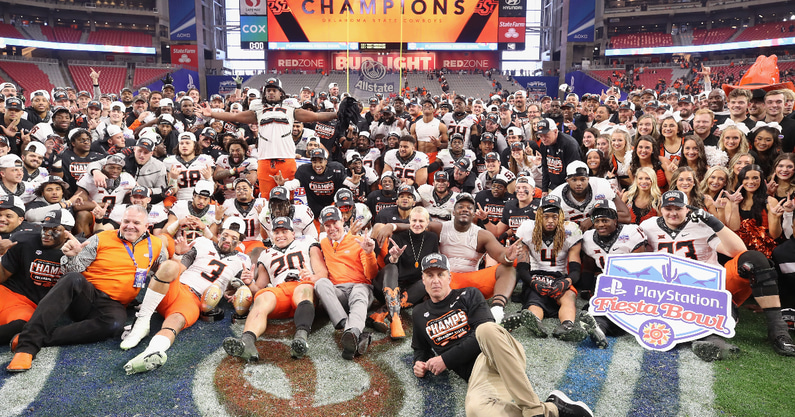 Oklahoma State, the reigning Fiesta Bowl champions, will return to action in year 18 under head coach Mike Gundy, and the Cowboys will look to build upon their success from last season.
Though there's still plenty of time until regular-season college football gets underway, when Oklahoma State is set to host Central Michigan in its season opener on Sept. 1, the spring season is just now beginning. And the first task for Gundy's team this spring will be its annual scrimmage.
Oklahoma State announced that its scrimmage, the "Spring Football Finale," will kick off in Boone Pickens Stadium on April 23, concluding an action-packed month in spring ball. Before that scrimmage, Oklahoma State will have 14 practices leading up to the scrimmage.
Gundy has amassed a 149-69 overall record in 17 seasons as Oklahoma State's head football coach, with this last season being one of Oklahoma State's best performances to date. The Cowboys went 12-2 on the year, ranking as high as No. 5 in the AP Top 25 Poll, and they even managed to knock off in-state rivals at Oklahoma in one of the most exciting Bedlam games in recent memory. Oklahoma State concluded the season on a high note, winning the Fiesta Bowl and defeating Notre Dame, but the Cowboys did experience a fair share of heartbreak down the stretch of the season.
After putting together such a successful regular-season campaign, Oklahoma State managed to make it all the way to the Big 12 Championship game with a chance to win its first conference title since 2011. In the final minutes of the game, Oklahoma State had the ball, trailing 21-16, needing a touchdown to win the conference championship — and the Cowboys managed to make it all the way down to the goal line. However, facing first-and-goal from the 1-yard line, the Baylor defense managed to stiffen up and stop the Cowboys on consecutive goal-line attempts, eventually stopping a dive for the pylon on fourth-and-goal. Oklahoma State was inches away from the Big 12 Championship, but it fell just short.
This year, Oklahoma State enters its football season with renewed hope and high expectations of doing damage in the Big 12, and the Cowboys will look to do just that.