Todd McShay continues his critique of Kayvon Thibodeaux while projecting pick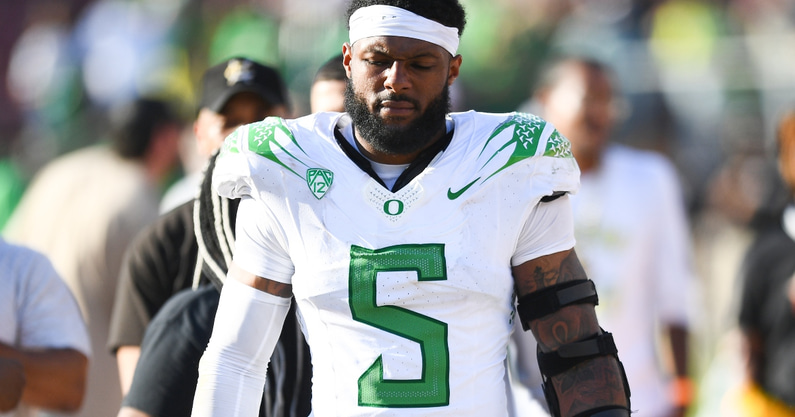 ESPN NFL Draft analyst Todd McShay has been critical of former Oregon star Kayvon Thibodeaux as he builds his mock drafts. He continued that as he broke down his Mock Draft 2.0 this week.
McShay projects Thibodeaux to the New York Giants as the No. 5 overall pick. That's farther down the board than the season and even into the offseason, and McShay explained where he's coming from with the criticism.
"Listen, it's what I see on tape and when I talk to guys … in the league who are evaluating players," McShay said. "Kind of the same feeling. Yeah, he's a great player. There's no question. Bottom line, he may be the most talented player in this draft. He was the most talented high school recruit. He came into Oregon and when he was on the field and when he was healthy and when he was dialed in, this guy's special. He's long, he's powerful and he can work through blockers. … There's no question he's got the talent, but the tape's a little bit up and down.
"But you get him at five when you think he's going to be off the board at No. 1 or 2 just a few weeks ago or a month ago. The Giants, to me, yes, they have offensive line needs, they have needs at linebacker, but Thibodeaux would be a great player and obviously a good value at that spot if you're the Giants thinking that he would've been gone."
Kayvon Thibodeaux fires back at Todd McShay report questioning his competitive fire
Following last week's Senior Bowl, ESPN NFL Draft expert Todd McShay had some interesting commentary on Oregon edge rusher Kayvon Thibodeaux. McShay reported that there were concerns about Thibodeaux's competitive fire. Thibodeaux joined SportsCenter earlier in the week, where he addressed the reports about his lack of competitive fire. He clearly wasn't having any of what McShay was saying.
"I feel like when you talk about fire, fire is kind of correlated to what someone has in the heart," Thibodeaux said when asked about McShay's report. "And I don't feel like anyone else can dictate what a person has in the heart. So I don't really look into it. I know it's entertainment, I know everybody has a job to do. But I do feel like the combine is going to be a place where I can put all of the questions to rest. I'll be able to answer them with my chin up and my chest down.
"So I'm excited for the journey and blessed for the opportunity. There's not many people that get to play this game at the highest level. So I just thank God every day that I'm healthy and that he's given me the wisdom and the clarity to come this far. We just gonna keep it going."