Dan Lanning addresses Oregon's running backs room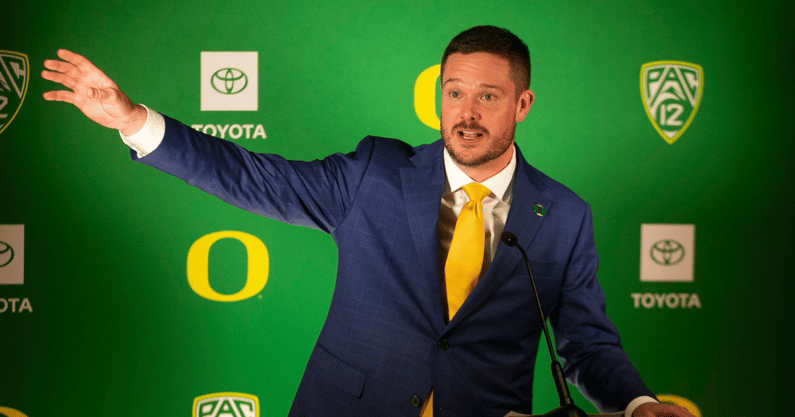 As Dan Lanning's time as Georgia's defensive coordinator was capped with a national championship win, he's now settled in Eugene, Oregon as the new head coach of the Oregon Ducks. While he's already put together his inaugural coaching staff and landed some players out of the NCAA Transfer Portal, Lanning is continuing to piece together his roster for the 2022 season.
One of the most important positions Lanning is focused on is his running backs room. While Travis Dye and CJ Verdell are both weighing their options, the new Ducks' head man said that he's been having conversations with both of them regarding their future.
Lanning made it clear that he'd love to have both players back next season, but noted that those decisions are solely up to them.
"Ultimately, I think each one of those conversations is a personal conversation with those players," Lanning said. "It doesn't necessarily have to be on here. A lot of that, again, is just conversation. It's being able to have a conversation. When you're in a different part of the world, you can't have those. So when you get back here to home base and you're able to sit down, I think there's a lot that can be accomplished when that happens.
"Some of these guys are still going through the process of making some of those decisions, and I don't want to necessarily put a timeline on each person's situation because each situation is different. I will say this: I'm excited about the group of backs we have. We'll continue to be aggressive in finding guys that can enhance our program and make us better, but I think a lot of those guys will be a part of what we're doing moving forward."
The latest on Travis Dye, CJ Verdell
Travis Dye – a former On3 Consensus three-star recruit out of the Class of 2018 – had a big season for Oregon in 2021, rushing for 1,271 yards and 16 touchdowns on 211 carries. He entered the transfer portal on Friday morning and will decide between going to another school, declaring for the NFL Draft or returning to Oregon.
CJ Verdell – a former On3 Consensus three-star prospect out of the Class of 2017 – suffered a lower-leg injury in a game against Stanford and was forced to miss the rest of the season. He's not in the transfer portal, but is weighing on whether or not to declare for the NFL Draft.
Alongside Dye and Verdell's current statuses, fellow Oregon running backs Sean Dollars and Trey Benson both put their names in the transfer portal. However, Dollars recently withdrew his name and has announced a return to the Ducks in 2022.