Report: Georgia's Dan Lanning to become next Oregon head coach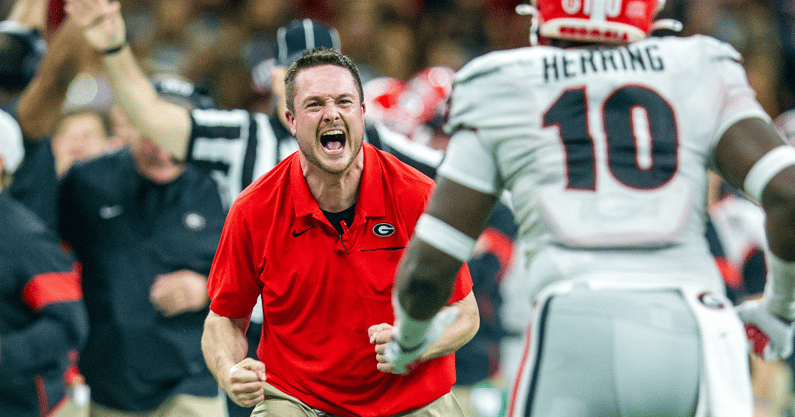 Oregon reportedly has its new head coach — and it's quite a splash.
Georgia defensive coordinator Dan Lanning is leaving the Bulldogs to replace Mario Cristobal as Ducks head coach, according to the Atlanta Journal-Constitution's Chip Towers. Towers reported an announcement is coming Monday.
Lanning has been Georgia's defensive coordinator since 2019 after a year as outside linebackers coach. He helped turn the Bulldogs into one of the best defenses in the nation, holding teams to 6.9 points per game before allowing 41 points to Alabama's high-powered offense in the SEC Championship last week.
Lanning also brings national championship experience with him to Oregon when he served as a graduate assistant at Alabama in 2015. That year, the Crimson Tide defeated Clemson 45-40 in the national title game. From there, he went to Memphis for two years before landing at Georgia.
Oregon has been looking for a new coach since Mario Cristobal left Eugene to return to his alma mater, Miami, earlier this week. Lanning's departure leaves quite a hole for Kirby Smart to fill on his staff.
But after Towers' initial report, conflicting reports began to surface saying Oregon hadn't offered Lanning and the job hadn't been accepted. However, Lanning is a candidate for the job, according to The Oregonian's James Crepea.
Georgia, the No. 3 team in the nation, is getting ready to take on No. 2 Michigan in the Orange Bowl.
It's also worth noting that Georgia and Oregon are scheduled to face each other in the season opener next year.
Dan Lanning's coaching background
After starting his coaching career at Park Hill South High School in Kansas City, Lanning latched on as a graduate assistant at Pittsburgh in 2011. He then moved on to Arizona State as a GA and became the Sun Devils' recruiting coordinator in 2013.
The next season, he went to Sam Houston State as defensive backs coach and recruiting coordinator before heading to Alabama. That's where he worked with Smart. Memphis brought him aboard as inside linebackers coach/recruiting coordinator in 2016 and Smart hired him away to Georgia in 2018. Lanning moved up to defensive coordinator in 2019 after Mel Tucker left Georgia to coach at Colorado.
Based on his background, he would bring recruiting prowess and a strong defensive background to his first head coaching job at Oregon.
It's unclear if he will coach in the Orange Bowl and, if Georgia wins, the national championship. The Orange Bowl matchup with Michigan is coming up on New Year's Eve.