James Franklin responds to Iowa allegations of faking injuries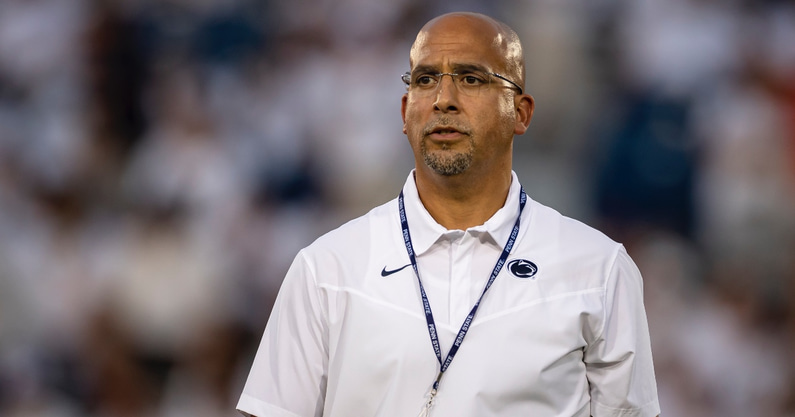 Penn State head coach James Franklin went off in a nearly five-minute prepared statement on Wednesday after Iowa fans booed Penn State players on several instances in which they went down with injuries. Iowa fans, and even Hawkeyes head coach Kirk Ferentz, alleged that the Nittany Lions were faking injuries to stop Iowa's momentum.
"So how does this strategy make sense against a huddle team?" Franklin asked. "People use this strategy to slow people down—spread offenses, tempo offenses—they (Iowa) huddle, so that strategy did not make sense in this situation. In our six years of playing them, six years straight. 4-2 with our record, has that ever shown up? Has anyone seen that? In my eight years as a head coach has that showed up, at Penn State? In my 12 years as a head coach has that showed up? It's not shown up. Plus our defense was playing lights out. Our defense was playing great."
On Tuesday, Ferentz stated he felt bad for the Penn State players that were legitimately injured in the game but defended his fan base, clarifying his belief that the fans who booed other injuries "aren't stupid."
What alarmed Ferentz, and aroused his suspicion, is what he guessed the fans were annoyed about. Ferentz said that there were a few Penn State players who were "down for the count," prompting the training staff to come onto the field and pause the game, "and then they were back a play or two later."
James Franklin fired back on Wednesday, questioning how it would be strategic for Penn State to lose those players to injury. The Penn State head coach went on to list off injuries, questioning the "strategy" of losing each. The Nittany Lions lost starting defensive tackle PJ Mustipher, backup defensive tackle Dvon Ellies, starting defensive end Arnold Ebiketie, starting safety Jaquan Brisker and captain and backup safety Jonathan Sutherland on the defensive side. Offensively, the Nittany Lions lost starting quarterback Sean Clifford and running backs Devyn Ford and John Lovett.
On Wednesday, James Franklin said Mustipher has been ruled out for the season.
"It was a physical game," Franklin said. "Was there a bunch of injuries? I get it. I get it. And how it may have looked, I get it. I'm telling you, we don't coach it, we don't teach it. May it have looked that way because there was a bunch of injuries in the game, I get it. There was a bunch of injuries in the game. But 70% of those guys didn't return. So all I'm saying is I don't think this is right for college football."
Iowa defeated Penn State 23-20 in a defensive matchup between the then-No. 3 and No. 4 teams in the country. The Nittany Lions led by as much as ten points in the third quarter, but struggled to move the ball following Clifford's injury. With the win, Iowa jumped up to No. 2 in the country while Penn State fell to No. 7.