'Let's shock the world,' Fairleigh Dickinson calls its shot against Purdue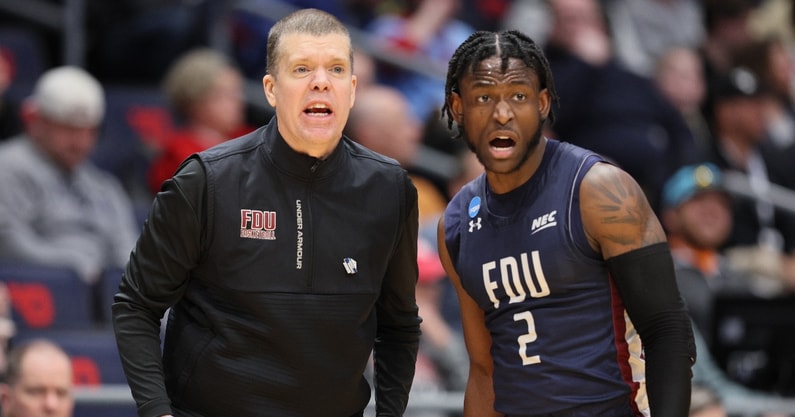 Fairleigh Dickinson is fated to play Purdue in the first round of the NCAA Tournament on Friday. FDU punched its ticket into the field of 64 after demolishing Texas Southern 84-61 Wednesday night.
After the game, Knights head coach Tobin Anderson sent a message to the No. 1-seeded Boilermakers — that Fairleigh Dickinson is going to be playing with a major chip on its shoulder and they used Texas Southern as an early example.
"I want Purdue to see this. I want them to break a sweat … the more I watch Purdue, the more I think we can beat them. Let's shock the world," Anderson said after the win.
FDU was fairly impressive in the win over the Tigers. After jumping to a 14-2 lead right out of the gates, the Knights never took their foot off the gas. Sophomore forward Ansley Almonor scored a game-high 23 points en route to leading his team to victory.
Fairleigh Dickinson is the only mid-major team that earned an automatic bid into the NCAA Tournament that did not win its respective conference championship. Merrimack was the 2023 Northeast Tournament champion but was not eligible for this team's tournament.
The win over TSU is the first for the Knights in the Big Dance since 2019 (First Four vs. Prairie View) and just their second all-time. They are 2-6 in the NCAA Tournament dating back to 1985 and have never been greater than a 15-seed, which only happened once back in 1998.
Purdue, meanwhile, enjoyed on of its most successful seasons in program history after earning a 1-seed for the first time since 1996. They won the Big Ten regular season title by three games and scraped by Penn State 67-65 last Sunday to win the Big Ten Tournament.
Tip-off between the Knights and Purdue is set for Friday evening at 6:50 p.m. ET live on TNT. The Boilermakers have opened as 23-point favorites.