Stanford suspends the Stanford Tree for on-field antics during Arizona State game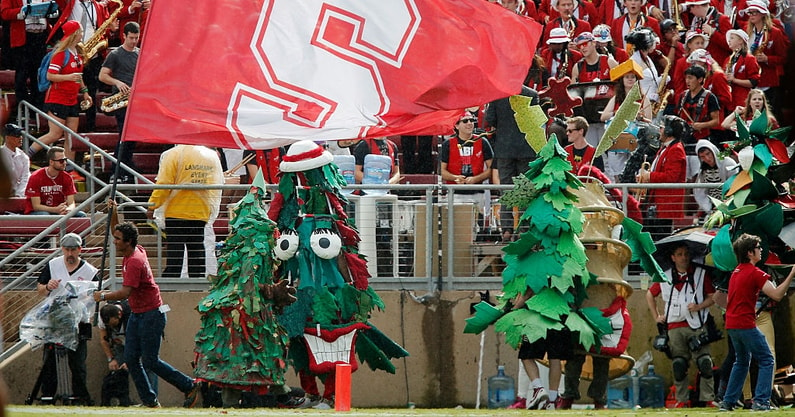 One of the strangest controversies in college football took shape on Sunday night as Stanford suspended the Stanford Tree. The person who performs as the iconic Stanford Tree mascot recently held up a banner during their matchup with Arizona State that read "Stanford Hates Fun" — a stunt that has earned him a suspension from the job for the immediate future.
Stanford Tree suspended for banner
Although it was not immediately clear why the Tree decided to unfurl the oversized banner on the field — with the help of the Sun Devil mascot — it apparently did not get received well by somebody in the Stanford program.
According to a report by OutKick on the initial banner stunt, the band's banner was a response to a recent tension between the school and the Stanford band after a party "got out of hand in Palo Alto" and the band was blamed for it. The school reportedly tightened control over what the Stanford band could do on the field and during their performances on the field — leading to a moment of rebellion from the Tree.
Unfortunately, the protest has cost him a few months of his tenure as the mascot.
"Stanford has decided to suspend the Tree for walking out onto the field last game with a sign reading 'Stanford Hates Fun'. Tree socials will be inactive for the next few months. See y'all soon," stated the Stanford Tree's official Twitter account.
CLICK HERE to subscribe for FREE to the On3 YouTube channel
The news that "Tree socials" will be inactive for a time is a tough blow to fans of the strange mascot tradition — leading many to criticize the school and band for proving the Tree's point with his banner.
Several fans claimed the move was a terrible one by the school as it takes one of the special parts of the band away from the fans, although their was a solution already in place alongside the suspension. The previous Tree will resume his post in the interim while the current Tree serves his suspension.
"Heyo, previous Tree (#43) here. Some of y'all have been asking, so I'll clarify that [Stanford band] leadership reached this decision as per established Band policy. But don't worry, I'll be coming out of retirement until #44 returns in the winter," explained a follow-up message on the official Twitter account.