Jimbo Fisher shuts down idea of Texas A&M reaching bowl game at 5-7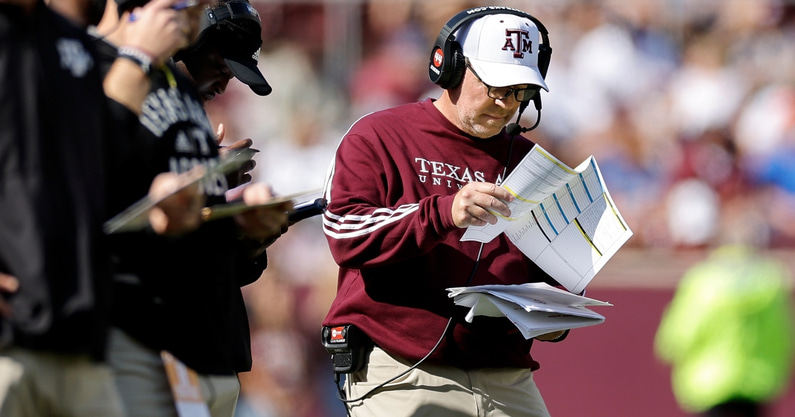 2022 has been a disastrous season for Jimbo Fisher and the Texas A&M Aggies. At 4-7 entering the final week of the regular season, it seems like making it to six wins and a bowl game is out of reach. This comes after the Aggies started ranked sixth in the preseason AP Poll. However, there is still a chance that Texas A&M could become bowl eligible at 5-7 if they were to beat LSU.
If there aren't enough teams with at least six wins to fill all the available bowl slots, then 5-7 teams could potentially be slotted into a bowl game. However, when he was asked about this on the Jimbo Fisher Radio Show, Fisher immediately shot the idea down.
"No," Jimbo Fisher succinctly said.
CLICK HERE to subscribe for FREE to the On3 YouTube channel
For a coach who is normally happy to speak his mind, Jimbo Fisher chose not to expand on why he wouldn't want that. After all, a lot of coaches like to go to a bowl game because it gives their team extra practice time that teams that don't make a bowl don't get.
At the same time, it's easy to understand why a team with such high expectations wouldn't be interested in backdooring its way into bowl season.
Jimbo Fisher says a win over LSU would be huge
Most people are assuming that LSU will beat Texas A&M on its way to the SEC Championship Game. However, the Aggies do have the talent to keep up with the Tigers. If they can do so, it would be a massive win for Texas A&M.
"I think it's huge. Again, with the future and what you have here, which we believe is extremely bright; where we're going and what we're doing with these guys, playing together and being together," Jimbo Fisher said.
"I think for the seniors, it's a great sendoff and the last time they walk into that stadium. And another lesson on perseverance, not letting circumstances dictate who you are and what you are. But how you deal with them and preserve through. I think it would be great for those seniors and a great message for these young players heading into the offseason."