Urban Meyer weighs in on Texas A&M, Jimbo Fisher struggles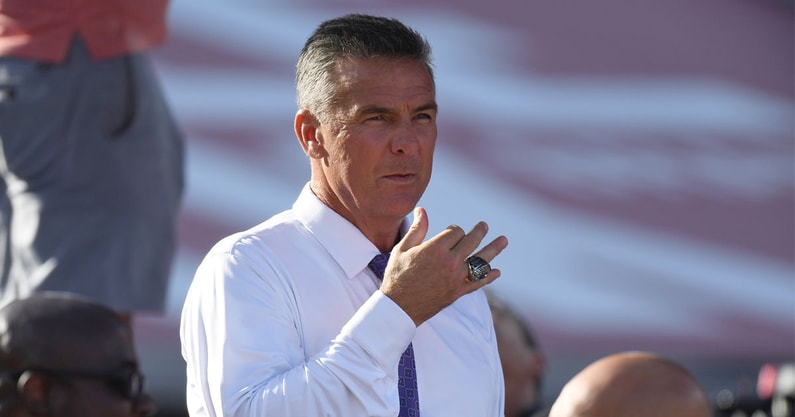 Texas A&M is on a three-game losing streak and will have to face No. 15 Ole Miss this weekend to keep it from reaching four. And amid a wave of suspensions and other turmoil in the program, three-time national title winning coach and current FOX analyst Urban Meyer weighed in on coach Jimbo Fisher's struggles.
Meyer has been through program stagnation, something he encountered briefly at Ohio State before he gave Ryan Day more freedom to run things. He's not entirely sure what's wrong in College Station, but he can tell something is off.
"It's hard to understand. I don't want to add to narrative because I'm not inside that locker room, but we're all, as I used to explain to our coaching staff and our players, this is the most evaluation-friendly business you can be in," Meyer said Wednesday on Urban's Take with Tim May. "That means every week there's a left side of the column and a right side, you either win or lose the game and then also people watch. And if it's in disarray, your evaluation is not very good."
Right now, Texas A&M's evaluation stinks.
Sure, the Aggies have had some factors outside their control that have impacted things. Quarterback Max Johnson suffered a broken bone in his hand. Texas A&M has started five different O-line combinations this season due to injuries up front.
Still, Meyer thinks something has to change.
"This young quarterback's supposed to be a tremendous talent, so I don't know if you just say, 'Let's go,' and ride with him," Meyer said. "But offensively I faced a challenge too because I ran my offense for so long and I was very stubborn.
"And then I hired a guy like Ryan. Because think about the coordinators I had. I had Dan Mullen, tremendous coach. Then Tom Herman did a great job for us. Then we got a little stale. I understood we needed to get things going a little bit, and Ryan Day brought that whole crossing package in the passing game. The way he understands how to attack downfield, so I kind of handed a lot of things to Ryan Day. I'm not sure that's what needs to happen down there. Once again, I'm not in that program, so I'm not completely sure."
Schedule doesn't ease up as Jimbo Fisher struggles
Meyer would know better than most the SEC doesn't give you much time to iron out problems on the fly. There are very few weeks you get a reprieve.
Just look at A&M's schedule.
Including Ole Miss this weekend, each of Texas A&M's last six opponents has been ranked ranked at some point this season.
"The one thing about the SEC: There's no time to take a breath. Ever," Meyer said. "You take a breath against Ole Miss they'll beat you to death. There's so many good athletes, especially in the Southeastern Conference, you can't take a breath. There's something going on there."
Meyer was careful not to pile onto a coach, noting multiple times he's not privvy to the particulars in the Aggies locker room and he doesn't know Fisher all that well personally.
Still, he outlined many of the same issues that have been apparent to outsiders.
"They just suspended a handful of players," Meyer said. "Some in the highly ranked recruiting class they had. The offensive performance has been nothing short of very poor."
Is Fisher's offense antiquated at this point?
"I've heard that and I actually went and watched a little bit of it," Meyer said. "Jimbo Fisher has a reputation, and deservedly so, as an excellent offensive coach. They won the national championship, he had Jameis Winston when he was there. He was an assistant coach, I believe, won the national championship at LSU. So his football acumen is very high. I don't know him very well, but I know people that know him and very good offensive acumen.
"But they're rotating quarterbacks, they've got issues in the offensive line with people who have been hurt. I see different numbers in the offensive line constantly and then also you see the rotation of three quarterbacks."
Long story short: no bueno.
Fisher and the Aggies will try to bounce back against the Rebels on Saturday, with kickoff slated for 7:30 p.m. ET on the SEC Network.