Report: Chip Kelly's future at UCLA remains in flux without contract extension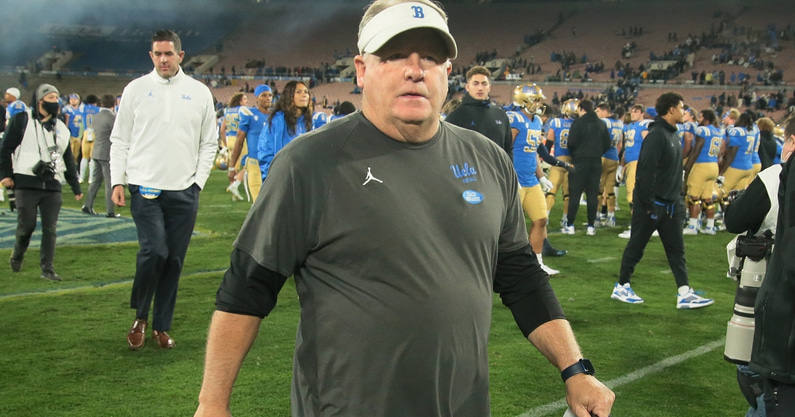 The coaching carousel was thought to be done turning, but Chip Kelly and UCLA could make a late addition. According to The Mercury News, Kelly's future at UCLA is in flux — Kelly and UCLA have yet to reach an extension, and are close to entering uncharted waters.
Earlier this week, Jon Wilner of The Mercury News revealed Kelly and UCLA are at odds.
"On January 16, UCLA might be in the market for a head coach to replace Chip Kelly," wrote Wilner. "Don't be fooled by the eight-win season, the turn of the calendar or the general lack of rumor and speculation. Kelly's situation is anything but settled.
"To be clear: We believe it's more likely than not that Kelly will coach the Bruins next season. But by no means is his return guaranteed, according to sources familiar with the situation."
With the team seemingly on the upswing, a change at coach for the Bruins would be shocking. With the wealth of experience and success Kelly brings, a better coach coming in this late in the game would be hard to find for UCLA.
Moreover, Wilner stated that one option for Kelly is a return to the NFL. If he feels disrespected by UCLA, he can simply walk away and find another job shortly after the first two weeks of January.
"He could walk away on Jan. 16 and seek employment as an NFL coordinator or quarterback coach if a respectable offer isn't forthcoming," wrote Wilner. "But that course of action would force Kelly to abandon his players and coaching staff, including two recently-hired assistants, at a date so late they would be left dangling."
Something's got to give at UCLA. If the aforementioned date rolls around with no agreement, things could get dicey for Chip Kelly and UCLA.