Former Vanderbilt defensive back announces transfer destination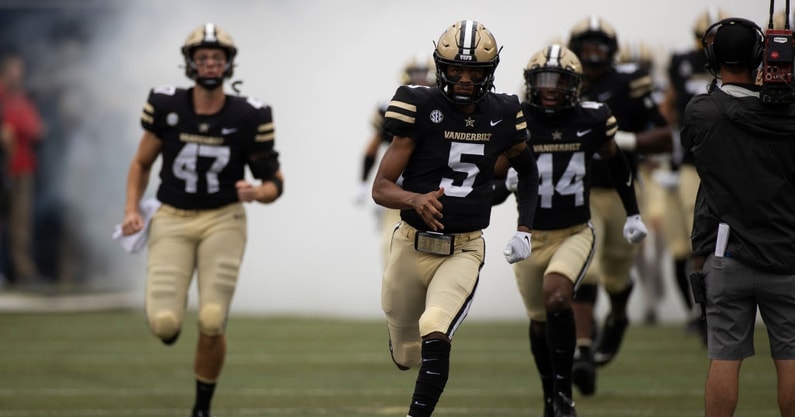 One of Vanderbilt's former defensive backs announced his new destination via social media on Monday, confirming his transfer to a new school. Vanderbilt graduate-transfer Gabe Jeudy-Lally confirmed his new school with be BYU after three years with the Commodores. Due to being redshirted as a freshman, Jeudy-Lally still has three years of college eligibility left on top of being one of the more experience defensive backs available in the transfer portal.
Vanderbilt defensive back transfers to BYU
Weeks after Jeudy-Lally made an official visit to BYU at the beginning of March, it appears that he has made his final decision to become one of the Cougars. In three years with Vanderbilt, he appeared on the field for 23 games with last year being his most productive as a Commodore. Jeudy-Lally played 770 snaps for Vanderbilt's defense over the last two seasons, giving him plenty of experience for a player with three years of eligibility left.
Prior to deciding on BYU, Jeudy-Lally reportedly received offers from Illinois, Iowa State, Purdue and Colorado as well.
"As a high schooler, the oohs and aahs of facilities, jerseys and all that great stuff, that's part of the decision," said Jeudy-Lally via Sports Illustrated about his transfer recruitment. "But as a graduate transfer, it's definitely not about the theatrics and the rah-rah, it's about the people that are the most honest with you and are going to keep it real at all times, and definitely like a family culture environment that you're looking for.
"[You're looking for] a place that's gonna win games because as a grad transfer, you've been somewhere, you've seen how other places operate, you've played against other places and you know what works and what doesn't really work. So it doesn't matter about whose facilities are better, whose jerseys are better, it about who's going to give you the best opportunity to excel and get to the next level."
BYU will look to have Jeudy-Lally's SEC experience make an impact on their secondary as they gear up for the 2022 season, as well as their soon-coming addition to the Big 12 Conference.