Former Vanderbilt veteran linebacker Alston Orji transfers to Campbell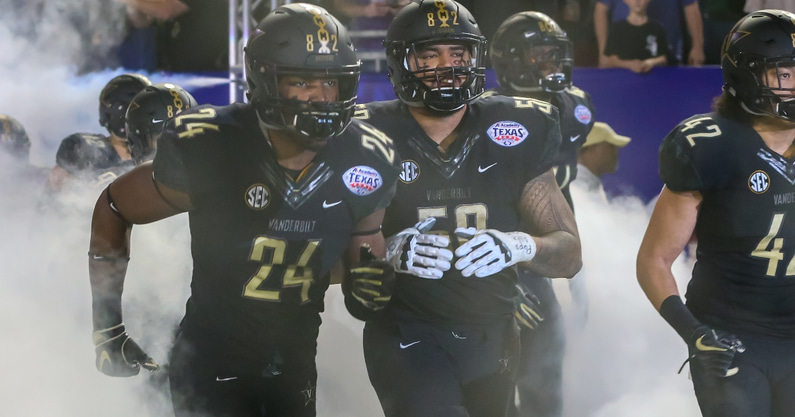 Former Vanderbilt linebacker Alston Orji officially exited the transfer portal on Saturday afternoon, committing to the Campbell University Fighting Camels, he announced via his Twitter page. He entered the transfer portal a few months ago on April 21. Orji left the Commodores' program after four seasons in Nashville. Coming out of high school, he was rated as a four-star prospect and the No. 27 linebacker prospect in America, according to the On3 Consensus Rankings for the 2018 cycle.
Alston was one of two Orji brothers on the Vanderbilt defense. His brother, Anfernee, is a starter for the Commodores, also at linebacker. Alston Orji tallied 21 tackles in 2021 and 43 over the course of his four seasons.
The Orji brothers have another brother, Alex, who signed with Michigan as an athlete in the 2022 recruiting class. The elder brothers played for Rockwall High School but their younger brother played for Sachse High in North Texas. Alex was a four-star prospect and No. 405 in the nation, according to the On3 Consensus.
The 6-foot-2, 230-pound linebacker will be immediately eligible to play for Campbell University, thanks to new NCAA rules. For the latest on where all the college football prospects across America are heading this offseason, keep it locked to the On3 Transfer Portal Wire.
Transfer portal sees uptick following culmination of spring practices
The NCAA Transfer Portal, which covers every NCAA sport at the Division I, II and III levels, is a private database with names of student-athletes who wish to transfer. It is not accessible to the public.
The process of entering the portal goes through a school's compliance office. Once a player provides written notification of an intent to transfer, the office enters the player's name in the database. The compliance office has 48 hours to comply with the player's request.
Once a player's name shows up in the portal, other schools can contact the player. Players can change their minds at any point and withdraw from the portal. However, once a player enters the portal, the current scholarship is no longer valid. In other words, if a player enters the portal but decides to stay, the school does not have to reoffer a scholarship.
On3's Nikki Chavanelle also contributed to this article.