WATCH: Justyn Mutts energizes the Virginia Tech crowd with a putback against N.C. State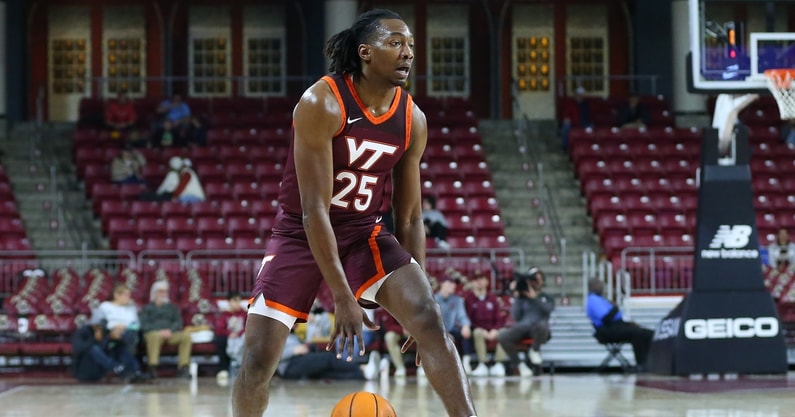 The Virginia Tech Hokies were battling their way back against the N.C. State Wolfpack on Saturday night. The Wolfpack were held scoreless for a few minutes and the Hokies made a big play that energized the crowd in Blacksburg. Virginia Tech guard Sean Pedulla got a steal, took the rock the distance, and layed it up, where Justyn Mutts cleaned it up with an epic putback.
Check out the dunk here and the Hokies crowd loved it.
Mutts stuffed the stat sheet on Saturday night with nine points, eight rebounds, and three assists. Virginia Tech trailed at halftime, 36-22, but Mutts' dunk capped off a second half run that brought the Hokies within four, 51-46.
The Hokies lost a hard-fought contest in Blacksburg to the Wolfpack, 73-69. Pedulla pumped in 19 points, five rebounds, and four assists for the Hokies in the loss. Virginia Tech battled hard in the final few minutes, but couldn't pull it out.
N.C. State's Terquavion Smith stuffed the stat sheet with 22 points, five rebounds, and three assists. The stats in the box score were pretty evenly matched for both teams, but Virginia Tech was manhandled on the glass. N.C. State outrebounded the Hokies, 38-29.
Virginia Tech guard Hunter Cattoor did not play on Saturday and he's a key piece of their roster. The Hokies have now lost four straight games, but there is still plenty of time before March. Mike Young is one of the best college basketball coaches in the country. It wouldn't be wise to count him out of things just yet. Virginia Tech sits at (11-5 overall, 1-4 in the ACC) and they've still got plenty of talented pieces on their roster.
All four of their last four losses have only been by five points or less, so there is certainly no need to panic for Virginia Tech basketball fans.
Next up, the Hokies will take on the Syracuse Orange on January 11th at 7:00 PM EST.