Neal Brown admits Garrett Greene deserves time at quarterback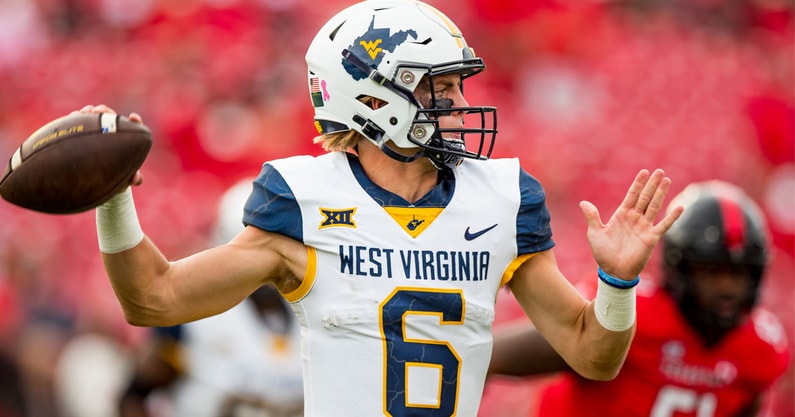 Following the team's sixth loss of the season and by far the worst outing of the season for starting quarterback JT Daniels, is West Virginia ready to give backup Garrett Greene more time at quarterback?
Coach Neal Brown answered that question this week. Short version: Yes, if necessary.
"You have those discussions," Brown said. "JT earned the starting quarterback position, and there's been some times where I think he's played that position as well as anybody in our league this year. It wasn't the case on Saturday."
In a 31-14 loss to Iowa State, Daniels finished just 8-of-22 passing for 81 yards, throwing one touchdown pass and one interception.
Greene began to get some work in relief, finishing the game 4-of-5 passing for 43 yards with one touchdown and no picks, while also adding five carries for 27 yards. He'll continue to get more snaps if Daniels struggles.
"I think Garrett is getting better and deserves probably the opportunity to play a little more," Brown said. "But JT is our starting quarterback and he will be on Saturday."
Quarterback change at West Virginia looming?
If Brown is thinking seriously about making a quarterback change at West Virginia he's certainly doing a good job keeping his cards close to the vest.
In fact, in discussing the situation he almost seemed to be trying to speak a strong outing out of Daniels into existence. West Virginia has to win out, with games against Oklahoma, Kansas State and Oklahoma State (on the road) remaining, if it wants to become bowl eligible.
Starting with this weekend's game against the Sooners, Brown is keeping his eggs in the Daniels basket… at least to start.
"We'll worry next week and the following week," Brown said. "Oklahoma, JT's going to start. And I'll say this, I really believe JT's going to play well. I think he's going to really play well. We're going to put him in a position where I think our receivers are going to play well here. I know our O-line's going to play better.
"But I mean there's really not a question within this building, like he's going to be the starter. The thing is too is our players really believe in him, which I think is important."
West Virginia and Oklahoma will kick off at noon ET on Saturday with the game being broadcast on FS1.