Neal Brown puts football problems in perspective amid struggles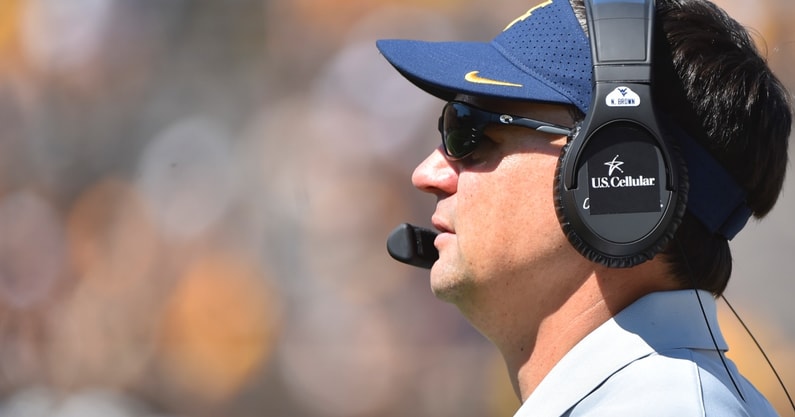 West Virginia has been disappointing this football season and head coach Neal Brown is thusly on the hot seat — not unexpected with a 20-24 record so far in Morgantown. Brown, for his part, doesn't want it to be like this, no coach would, but he's also keeping a healthy perspective to things.
West Virginia and Brown have problems to solve and address, but they're problems that "are better than 99.9% of other peoples problems," Brown said.
"I'm not gonna get too hung up on 'em," Brown said. "I hate it because the investment level's high. I said that at the opening, there. And when things don't go the way you want them to go, that's disappointing. But, you always have next. And this week, the thing that's great and the reason why I really believe our guys are excited is because Oklahoma — and you have an opportunity to do something that hasn't been done since we joined the Big 12. West Virginia hasn't beaten Oklahoma since joining the Big 12."
CLICK HERE to subscribe for FREE to the On3 YouTube channel
The coach explained that he detests losing and failure on Saturdays as much as the next coach, but he's not going to wallow.
"I hate losing. Losing, it makes everything difficult to deal with. And I hate it because the people in this building are investing a lot. I hate it because really haven't had to experience that very often. Now, what people say, that doesn't necessarily affect me. But the losing, that's painful to go through. But I refuse to let it — I think there's a lot more things out there that people have to be down about. So when I come into this building I refuse to be negative. I refuse to let anybody in here — we're not going to feel sorry ourselves as coaches or as players," Brown said. "And the bottom line is we're going to go and do everything we can to prepare to win a game."
A unique aspect of being a player, coach or someone tangential to them in the modern age of college football — and sports — is the level of access social media allows.
This is both good and bad.
There are plenty of good actors, interacting with tweets and Instagram posts and TikToks from athletes and sharing moments they saw them out and got a picture. But there is a hideous underbelly to it all and anyone who wishes has the license to, anonymously, pile on how they so chose.
"You can't block it," Brown said of internet hate. "You just have real conversations. It's a real conversation you have. Dax is kinda, he's sheltered from it. But my daughters have to deal with it, my wife has to deal with it. For me, and that's where it's bothersome when you're talking about my family or really the families of the staff are involved. And to a certain extent, too — not to a certain extent, to a full extent, is the players families, too."
Brown explained that his philosophy is to recognize that whoever is attacking him doesn't know him — can't know him — and that no matter what they're saying, it's just somebody mad about football.
Turning the other cheek might not be fair, and especially challenging when it's not just coaches and players in the crosshairs, but their families, too. But it's what Brown has trained himself, and tells those around him, to do.
"And what I try to relay to my daughters and my wife, and I talk to our players about this a good bit: They're not attacking you personally. Even though they may @ you and your name and it's your Twitter account and all that kind of stuff, or your Instagram or whatever else they have these days. But like, it's not personal," Brown said. "If you allow that to be personal, that's on you. That's on me. Because most people, and I would say almost all people that are doing that type of activity on social media, they don't know you. They don't know me. So it would be foolish of me to take that personal. It'd be foolish of our players to take that personal."