2022 NBA Draft winners and losers; From the Charlotte Hornets to the Memphis Grizzlies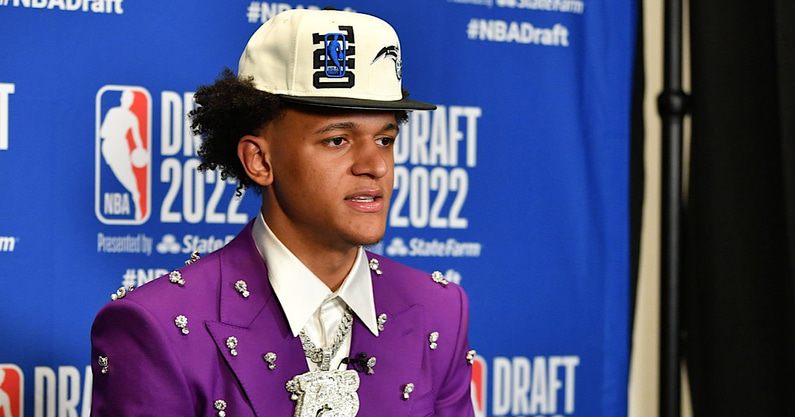 The 2022 NBA Draft night has come and gone. While there were no real surprises in the lottery, this draft was pretty deep. Some good players dropped into great situations, and some movement enabled some teams to get their targeted players.
Here are some of the big winners and losers in my eyes from the 2022 NBA Draft.
Draft Winners
Orlando Magic
The Orlando Magic got the first pick, and they took – who they thought was – the best player on the board. The 6-foot-10 Paolo Banchero was ACC Rookie of the Year and 2nd-Team All-American last year.
The Magic have guards (Cole Anthony, Markelle Fultz, Jalen Suggs), wings (Franz Wagner, Chuma Okeke), and posts (Mo Bamba, Wendell Carter). Jonathan Isaac is more of a forward, but his health is a continued question mark. However, Paolo Banchero fits at the power forward position here. All of these players are also under 25 years old.
The positional fit is there, and so is the timeline. Watching how the coaches fit the talent together and figure out the pecking order of minutes will be interesting.
Detroit Pistons
Detroit Pistons made all the headlines last season, drafting Cade Cunningham. As the season wore on, Cunningham showed playmaking chops on the ball while figuring out his scoring.
This season, the Pistons were able to add to the Jaden Ivey with the fifth pick. Ivey fits perfectly beside Cunningham, who can be a secondary initiator and use his blazing speed to get downhill to the basket and create opportunities.
Jalen Duren is a big-time athlete around the basket. He is a premier rim protector at 6-foot-11 with a 7-foot-5 wing span. He also measured a 42-inch max vert at Kentucky's pro day. Despite his menacing physical measurements, Duren was one of the youngest players in the draft.
Both 2022 NBA Draft picks fit with this Pistons roster is seamless. They also have Saddiq Bey, Isaiah Stewart, Marvin Bagley, and Hamidou Diallo, who are all 24 years old or less.
Charlotte Hornets
The Hornets have needed to solidify their five position for over a decade. Mark Williams may just be the man they can build their defense around.
Williams stood out at the Draft Combine as he measured 7-foot-2 in shoes and a 7-foot-7 wing span. That gives him a 9-foot-9 standing reach, one of the tops in the NBA. He shot over 70-percent from the field and over 70-percent from the free-throw line last season with 2.8 blocks per game for the ACC Defensive Player of the Year.
The Hornets also got a pair of high upside wings in the second round. 6-foot-7 Josh Minott, a freshman out of Memphis, is very explosive with good size and length. Bryce McGowens is a 6-foot-6 shooting guard who averaged 16.8 points and made 40 threes his freshman season at Nebraska.
Houston Rockets
The Rockets were always going to be a winner here. Three players were all viable No. 1 picks, one of the three was always going to fall to three. In this case, the Rockets were able to get Auburn's, Jabari Smith.
Smith was the top player on many draft expert's recruiting boards. The forward is a creative three-level scorer with a smooth catch and shoot stroke and some excellent mid-post action. He will need to continue to develop his handle to create, but Smith has great length and lateral ability and the toughness to guard multiple positions.
Tari Eason is one of the biggest defensive stoppers in the draft. He averaged over a steal and block last season at LSU. Eason has some positives on the offensive end, but he will have to continue developing there.
The fit of these two with the current roster looks good too. Smith, beside last year's lottery pick Alperen Sengun looks like a fit. And Tari Eason, beside last year's No. 2 overall pick, Jalen Green, looks like a fit. They also drafted TyTy Washington in the late first round; we will see what kind of contributions he can give at this level.
The Houston Rockets continue to stack talent during the post-Harden/Morey rebuild.
Draft Losers
Denver Nuggets
The Nuggets ended up with two first-round picks in what many considered a deep draft. They ended up spending both picks on guys many would consider a reach.
Christian Braun, No. 21, was projected by most to be available to start the second round. The No. 30 pick, Peyton Watson, was a mid-second round pick by most.
Braun does not have a defined skill set, as he is a good straight-line athlete and tough. His skill set is good across the board but not great at anything. Watson is a project, excellent physical tools with length, explosion, and fluidity. Can he become a defensive stopper? Can he develop an offensive identity?
There are a lot of questions with these two 2022 NBA Draft first-rounders, what will the Nuggets see out of the pair?
Jaden Hardy
Heading into the draft, most projected Jaden Hardy to be a first-round draft pick across the board. The 6-foot-4 shooting guard with the 6-foot-9 wing span dropped to the No. 37 pick and was the last player in the green room. Hardy did average 17.7 points in the G-League last year; he also shot 35.1-percent from the field and 26.9-percent from three. His struggles with his handle, burst, and fluidity caused a lot of bad shots and turnovers last season.
The Dallas Mavericks need shot-makers and the fact they traded back into the draft specifically to draft Hardy shows they wanted him. The already crowded Dallas backcourt includes Jalen Bruson, Spencer Dinwiddie, Tim Hardaway, and Reggie Bullock around Luka Doncic so how he finds minutes could be interesting.
To be determined
Memphis Grizzlies
The Memphis Grizzlies have a record of hitting on late-first and early second-round draft picks. In fact, they drafted three of their top five scorers, Desmond Bane, Brandon Clarke, and Dillon Brooks, between the 21 and 45 picks.
In this NBA Draft, the Grizzlies took Wake Forest forward Jake LaRavia at No. 19 and traded to get Colorado State forward David Roddy at No. 23.
LaRavia measured 6-foot-8, 227-pounds with a 6-foot-9.5 wing span. He is a plus passer and a plus-plus shooter. LaRavia also is a good team defender and surprised many with his lateral movement at the NBA Draft Combine.
Roddy is a jack-of-all-trades type forward at 6-foot-5, 255-pounds. His 6-foot-11 wing span allows him to rebound and defend. He can also shoot from three and pass it from multiple spots on the floor. Like LaRavia, he is versatile and tough.
Neither of these guys will be stars, but Memphis already has Ja Morant and Jaren Jackson, Jr. These two players will be the role players and depth pieces that surround the stars and enhance the overall team.
Sacramento Kings
Many draft experts had Jaden Ivey locked up in the No. 4 spot to the Kings. However, the fit beside franchise cornerstone D'Aaron Fox simply did not make sense. Instead, the Kings drafted Iowa's first-team All-American Keegan Murray.
Murray finished fourth in the NCAA in scoring at 23.5 points per game. He was also top five in the Big Ten in blocks (68), steals (45), and rebounds (303). He was the only player in the nation with at least 50 dunks and 50 made threes on the season.
The 21-year-old Murray has a natural fit between Harrison Barnes and Domantas Sabonis as he battles with Trey Lyles for minutes.