49ers reveal injury status of key special teamer before matchup with Cowboys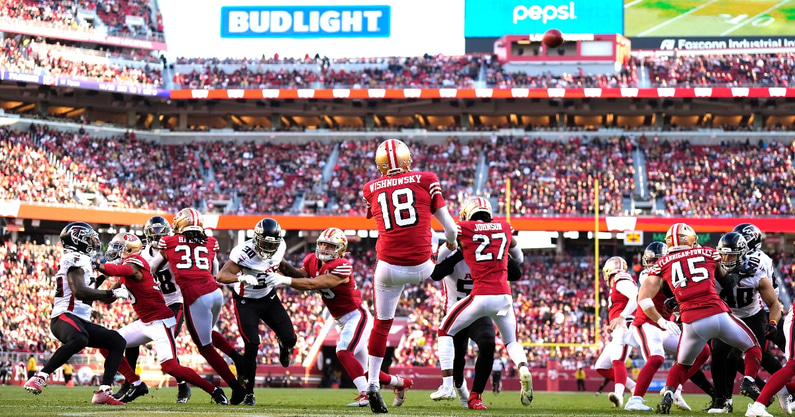 Ahead of a Sunday matchup against the Dallas Cowboys to kick off what the San Francisco 49ers hope is a long playoff run, they received some good news on the injury front.
Per Adam Schefter of ESPN, punter Mitch Wishnowsky cleared concussion protocols on Saturday and does not have an injury designation for Sunday's contest. He suffered the concussion as a result of a hit last weekend against the Los Angeles Rams in which he had to punt from his own end zone. The Rams brought pressure and delivered a hard hit to the third-year player.
In 2021, the specialist had 57 punts for an average of 45 yards per punt. His season long was 67 yards, and he pinned 21 punts inside of the 20 yard line. The 45-yard average ranked 25th in the NFL in 2021.
Wishnowsky has been in the NFL for three years, and he played college football at Utah, where he had a historic career. The Australian punter won the Ray Guy Award, given to the nation's top punter, in 2016, and he was a three-time finalist for the award. He is the only punter in NCAA history to be a three-time finalist for the honor.
Additionally, he was a three-time All-American and three-time Pac-12 specialist. He had 62 career punts of at least 50 yards, which ranks second in Utah history. Wishnowski was a fourth-round NFL Draft selection by the 49ers.
The game between the No. 6 49ers and the No. 3 Cowboys is their first meeting of the season. The only NFC West team Dallas faced this year was the Arizona Cardinals, and they lost 25-22. The 49ers played the Eagles out of the NFC East in Week 2, and they won 17-11.
The game kicks off at 4:30 p.m. ET on CBS, and the Cowboys are 3-point favorites. The 49ers last playoff appearance came in 2019, when they fell to the Chiefs in the Super Bowl 31-20.