Philadelphia Eagles Pro Bowl lineman likely headed to injured reserve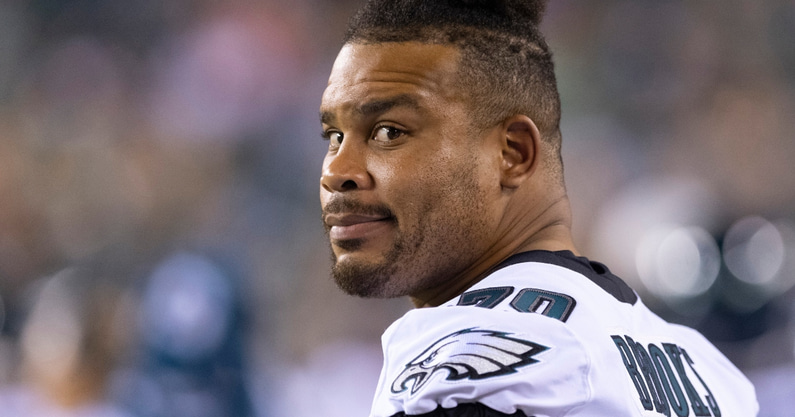 The Philadelphia Eagles could be without Pro Bowl offensive guard Brandon Brooks for the foreseeable future. Brooks left Sunday's matchup against the 49ers early with a chest injury. Head coach Nick Sirianni addressed the type and severity of the injuries suffered by his guard on Sunday.
"He strained his pectoral muscle," said Sirianni. "We're thinking he's probably going to go to IR but it's not a season-ending injury."
Fortunately for the Eagles, the injury is not as severe as initially thought. They are currently dealing with losing another pro-bowl Brandon, Brandon Graham, for the season. Graham suffered an Achilles tear in the 49ers game as well.
For Philadelphia, placing Brooks on the IR would mean the lineman would be out for at least three weeks. And he would be sorely missed as those next three games are against their NFC East rival in the Dallas Cowboys, the reigning AFC champs, the Kansas City Chiefs, and early surprise team of the season, the Carolina Panthers. With a strain, it's unclear how long it will take the muscle to recover. But placing Brooks on injured reserve would help prevent him from doing any additional damage to the muscle; resulting in him being out longer.
Brooks replacement
The likely replacement at guard would be the Eagles' second-round pick this year, Landon Dickerson. The rookie was the one who took over for Brooks after exiting the game. Sirianni gave his thoughts on his rookie's performance against the 49ers.
"He played a solid game," Sirianni stated. "…We all know we all have to do things to improve based off of yesterday's game. But I thought he played solid for his first outing. Again, there's some things with his pass pro that we've got to clean up. Assignments, and stuff like that."
Dickerson has room for improvement after making his NFL debut against the dangerous defensive front of the 49ers. He will look to slide into the starting rotation and help keep second-year quarterback Jalen Hurts upright. His original position was center which he played for the reigning college football national champions, the Alabama Crimson Tide.
He was arguably one of the best offensive linemen in the country and racked up the awards to prove it. Dickerson was the co-winner of the Jacobs Blocking Trophy with teammate Alex Leatherwood. He also won the Rimington Trophy, awarded to the nation's best center. Dickerson slipped in the draft after suffering an ACL injury in the SEC championship game against the Florida Gators.
Although the Philadelphia Eagles see potential in Dickerson, they are hoping to get their Pro Bowl guard back as soon as possible.