Charles Barkley jokes about Michael Jordan or Larry Bird playing in the NFL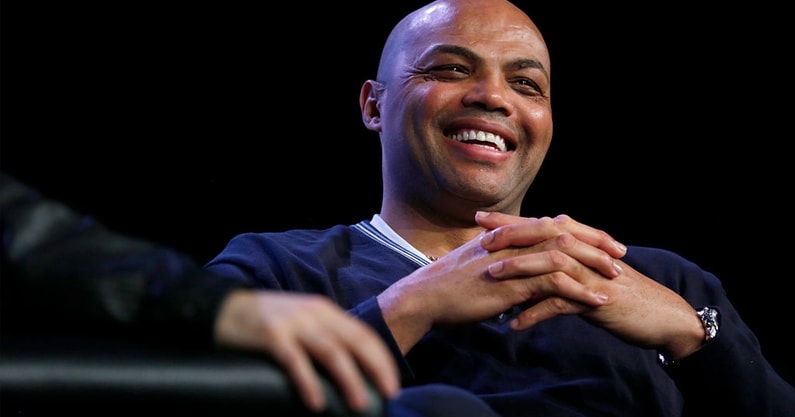 On the first edition of ESPN's Monday Night Football with Peyton and Eli, Charles Barkley joined the duo in the first quarter and gave his take on whether Michael Jordan or Larry Bird could have played in the NFL.
Barkley on Jordan and Bird in the NFL
During a fun optional broadcast to Monday Night Football, NFL champion quarterbacks and brothers Peyton and Eli Manning broadcasted the game with their own insights and stories.
Their first ever guest on the new program was NBA Hall of Famer Charles Barkley, and their conversation drifted to if other NBA legends could have played in the NFL.
Peyton asked Barkley what position Michael Jordan would have played in the NFL.
"Tight end," Barkley stated. "Tight end because he's 6-foot-6."
Eli followed up by asking if he could block well enough for the position.
"There's plenty of tight ends who are in the Hall of Fame who can't block. Your job is to catch the ball if you're a tight end. Stop it."
Peyton then asked what position would Larry Bird play?
"No," Barkley joked. "There's no place for no slow 6-foot-10 guy in the NFL."
Barkley remained on the broadcast through the first quarter with the brothers as they continued to laugh and have a good time. As the quarter came to an end, Peyton mentioned that Kansas City Chiefs tight end Travis Kelce would be their guest in the fourth quarter.
Peyton then made one last joke at Barkley's expense by telling him he was their original pick for a fourth quarter guest, but his agent told them he had to go to dinner early so he would leave after one quarter.
Fans will be left to wonder if Barkley had any other opinions on Jordan or Bird playing in the NFL for another game.
Ravens hobbled in the backfield
The Baltimore Ravens travelled to the Las Vegas Raiders for the first Monday Night Football game of the season, following a brutal preseason filled with injuries to their running backs.
After losing their young star J.K. Dobbins, the Ravens have since lost Justice Hill and Gus Edwards for the entire season.
Edwards was primed for a big role in the Ravens backfield this season after the loss of Dobbins.
Despite being depleted at the position, the Ravens opened the game strong with a 14-0 lead early in the second quarter. Ty'son Williams led the rushing attack to start, getting a touchdown in the first quarter for the first points of the game.