Cowboys free agent Donovan Wilson agrees to new contract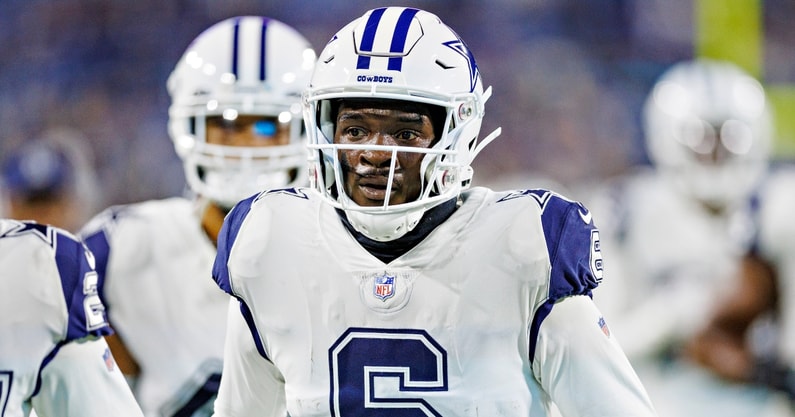 The Dallas Cowboys have come to an agreement with starting safety Donovan Wilson this week. The 2022 leading tackler will be back for 2023 after agreeing to a three-year deal worth up to $24 million before he hit the free agent market.
Wilson's new deal includes a fully guaranteed salary for the first two years, worth up to $13.5 million, according to Mike Garafolo.
Wilson, drafted in the sixth round in 2019 out of Texas A&M, was playing on a four-year, $2.65 million rookie deal. The 27-year-old former Aggie posted a career-high 101 tackles this season for Dallas. He also had five sacks, two forced fumbles, a recovery and one interception.
CLICK HERE to WIN March Madness Prizes in On3's Bracket Challenge
During Dallas's postseason run, Wilson had an additional 20 tackles, including a tackle for loss.
After finishing third on the defense in tackles in 2020, Wilson had shoulder and groin injuries that made him miss eight games in 2021.
During his time at Texas A&M, the Cowboys defender was a team captain and team leader in interceptions. He is a Shreveport, Louisiana native.
More on the 2023 NFL offseason, free agency
The NFL 2023 calendar year begins at 4 p.m. ET on March 15. At that time, contracts running through 2022 officially run out, making those players free agents. Prior to the beginning of free agency, teams will have a chance to designate one franchise or transition tag player, starting on Feb. 21 at 4 p.m. ET and ending on March 7. Beginning March 13 through March 15 teams can enter into a legal negotiation with players who are will become unrestricted free agents.
In addition to NFL free agency, the new year also marks the beginning of all trades being made official by the league office. April 21 marks the deadline to sign restricted free agents to offer sheets. On April 26, the deadline for teams to match restricted free agent offers sheets hits.
There are 722 players slated to become free agents in 2023, including 20 unrestricted free agents for Dallas.