WATCH: Dallas Cowboys vs Oakland Raiders fight ends with referee injury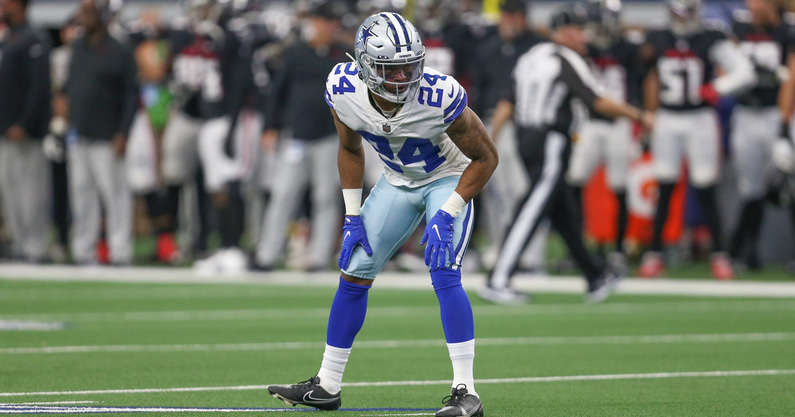 On what should have been a routine punt return for the Dallas Cowboys and the Las Vegas Raiders, there was some after-the-play action on Thanksgiving. Two players were ejected, changing the complexity of the game.
Dallas rookie cornerback Kelvin Joseph and Las Vegas safety Roderic Teamer were battling each other during a punt. It extended past the play and onto the sideline, leading to a scuffle. Both were thrown out of the game.
Worst of all, the referee trying to break up the scuffle came away with an injury. He must have taken a shot off the chin, showing a cut once he separated the two teams from each other. The referee stayed in the game as well.
You can watch the whole altercation here.
Since the incident, there has not been another heated moment between the two teams. The Raiders lead the Cowboys 27-`19 in the middle of the third quarter.
Dallas Cowboys shuffling offensive line vs Raiders
The Dallas Cowboys are taking an interesting approach on Thanksgiving Day, rotating their offensive line during the game. According to Michael Gehlken of the Dallas Morning News, changes have been made at left guard and right tackle.
Connor McGovern got the start on the left side, while Terrance Steele started at right tackle. By the third drive, Connor Williams, who began the season as the starter, was back at left guard, while La'el Collins was back protecting Dak Prescott.
Collins has been in and out of the lineup over the past few weeks, coming back from a suspension. Steele has seen playing time at left tackle as well this year, replacing an injured Tyron Smith.
Dallas Cowboys assistant head coach/offensive line coach Joe Philbin is not in attendance at AT&T Stadium on Thursday, as he is out due to COVID-19. Philbin was experiencing symptoms after testing positive.