Jameis Winston receives high praise from Saints teammate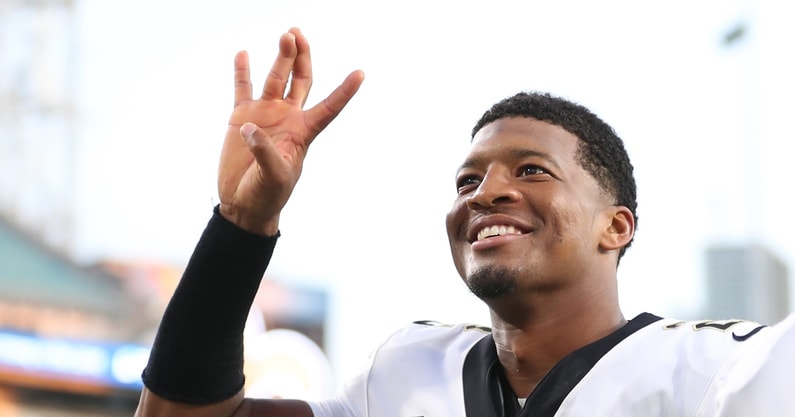 New Orleans Saints linebacker Demario Davis had nothing but praise for the team's new starting quarterback Jameis Winston. After their 38-3 win of the Green Bay Packers, Davis had this to say about Winston.
"I don't think there's a player in the building I'm more proud of. … I think the world is really going to be shocked by what they see," said Davis according to Katherine Terrell of the Athletic.
After that week one game, there was plenty for which Davis could be proud in Winston's post-Drew Brees starting debut for the Saints. Winston went 14 of 20 for 148 yards passing. He also contributed to the rushing attack with six carries for 37 yards. The two biggest stats for Winston were the five passing touchdowns, which tied his career-high and having zero turnovers for the game.
Some doubted Winston heading into the season as he prepared to battle Taysom Hill for the right to succeed All-Pro Drew Brees who retired following the 2020 season. Most of the concern around him was his consistent struggle with turnovers when he was the Tampa Bay Buccaneers quarterback. In his five years in Tampa, Winston threw 88 interceptions. In 2019, he completed the NFL's first-ever 30 for 30 season, where he finished with 33 touchdowns and 30 interceptions.
Getting picked off wasn't his only issue. In the 30 for 30 season, Winston had nine fumbles. In his career, he has a total of 31 fumbles, bringing his turnover total to 119.
Winston's potential
Demario Davis has reason to be proud of Winston on the field. In three of his five seasons in Tampa Bay, he passed for over 4,000 yards. And in his 30 for 30 season, he led the NFL in passing yards with 5,109. He is just one of eight quarterbacks to pass for 5,000 yards in a single season. That list includes Hall of Famers Dan Marino, Peyton Manning, and projected Hall of Famers Tom Brady, Drew Brees, and Ben Roethlisberger.
If Winston can continue this high level of play and continue to eliminate the mistakes leading to turnovers, it won't be just Demario Davis singing the praises of Winston.
Winston will have plenty of opportunities to prove his doubter wrong next week as the Saints prepare to face off against their division rival, the Carolina Panthers. That game will be this Sunday, Sept. 19 at the home of the Panthers. The kickoff is scheduled for 1 p.m. EST.