DeMarvin Leal explains what he adds to Steelers defensive line, how he fits in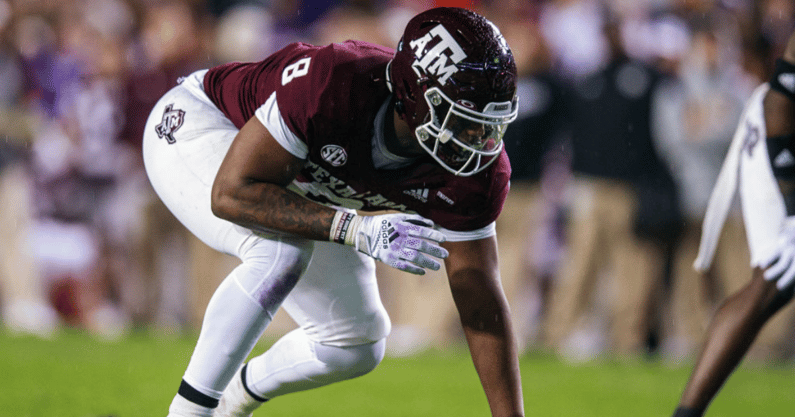 Former Texas A&M defensive lineman DeMarvin Leal was drafted by the Pittsburgh Steelers to give the coaching staff more versatility and depth to work with up front on defense. With his ability to play defensive end or defensive tackle in a 3-4 and 4-3 defense, he promises to work his way onto the field quickly.
During an interview set up by the Pittsburgh Steelers, DeMarvin Leal explained what the coaching staff can expect from him early in his career as he looks to establish himself in the rotation.
"He's getting somebody who is really willing to give his all," said Leal. "Just somebody that's going to be fully committed. I want to sink in as much wisdom as I can."
As he continued to speak about his first season, Leal was asked about how he will approach entering a locker room filled with veterans. The versatile young player shared that he feels there is no better situation.
"With the older guys – I know there's a lot of older vets here – so just want to be a sponge. I want to sink in as much wisdom as I can about the game itself. And they've been here for a long time, so definitely going to look at those guys as big brothers and take their advice when it comes to a lot of things. And just try to play all the positions that I can possibly on the defensive line. So that's going to take a lot of communication, a lot of learning, and just trusting the process."
DeMarvin Leal shares draft night story
On draft night, Leal said that he and his family were staying in Texas. He wanted to go outside to get a break from staring at the TV all night, and once he and his family did that, Leal received the call from the Steelers.
"I was in San Antonio, Texas, was with family at an Airbnb," Leal said of draft night. "Got on a call with coach, and first everybody was inside watching the draft. But then it was like let's go to the pool, let's just look at the sky, get away from the TV a little bit. So we all just migrated outside and was just talking, enjoying each other's time. And then next thing you know, there goes the call."
In three years at Texas A&M, Leal racked up 133 total tackles, 13 sacks, and 25 tackles for loss. He was also an accomplished prospect coming out of high school, ranking as the No. 14 overall prospect in 2019.