Adam Schefter: Bill O'Brien is a candidate for newly-opened NFL coordinator position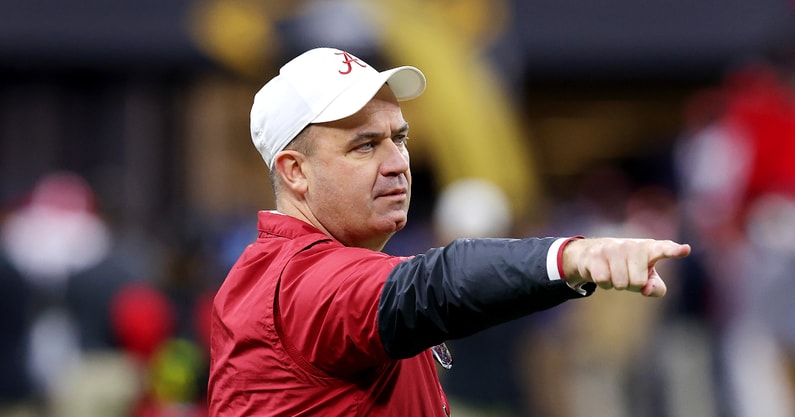 New England Patriots offensive coordinator Josh McDaniels has reportedly opted to leave Foxborough to become the head coach of the Las Vegas Raiders, vacating a high-profile coordinator job. And according to ESPN NFL insider Adam Schefter, Alabama offensive coordinator Bill O'Brien is a legitimate name to monitor in the Patriots' search to fill it.
Schefter first tweeted on Thursday that if McDaniels leaves, O'Brien is a name to monitor, and he doubled down on that take in an appearance on ESPN late Sunday morning.
"One person to watch (in New England) is a former New England Patriots assistant coach and former Houston Texans head coach Bill O'Brien," Schefter said Sunday.
O'Brien's name has frequented coaching carousel reports this offseason, in both the collegiate and NFL ranks. For quite some time, O'Brien appeared on track to leave Alabama after one short season to become the head coach of the Jacksonville Jaguars; however, his name has since dissipated from Jaguars head coaching reports. Perhaps the marriage with the Patriots makes more sense anyways, given O'Brien's history with longtime New England head coach Bill Belichick.
O'Brien has had a long coaching career in both the NFL and collegiate ranks, briefly serving as the offensive coordinator at Georgia Tech, running backs coach at Maryland and offensive coordinator at Duke before making the jump to the NFL in 2007. There, he coached in several roles with the New England Patriots, perhaps making this a perfect marriage between the NFL franchise in need of a coordinator and the current Alabama offensive coordinator.
O'Brien's first tenure with the New England Patriots spanned five years and several different assistant coaching roles. He served as an offensive assistant for the Patriots when he first arrived in 2007, then spent the 2008 season as the wide receivers coach, and the 2009 and 2010 seasons as the quarterbacks coach, before he received one more promotion for the 2011 season: offensive coordinator. The Patriots finished 13-3 under O'Brien and Belichick in 2011, then he made the jump back down to college with Penn State.
O'Brien was hired as the head coach at Penn State in 2012, but his tenure was quite short. O'Brien had a 15-9 record at Penn State and won 2012 Big Ten Coach of the Year, but he quickly received his first NFL head coaching job with the Houston Texans, prompting his dismissal after two seasons. He went 52-48 in seven years with the Texans before being fired in 2020.
O'Brien spent one season away from coaching before returning to college in 2021. Following then-offensive coordinator Steve Sarkisian's departure for Texas, Nick Saban tapped O'Brien to take over the role at Alabama.