Former Duke star Zion Williamson signs five-year deal with Pelicans worth $193 million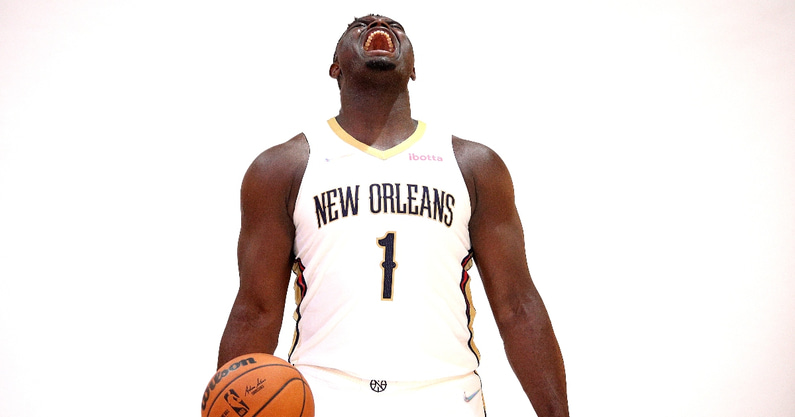 Former Duke Blue Devils' star Zion Williamson agreed to a five-year, $193 million rookie extension with the New Orleans Pelicans on Saturday afternoon, per ESPN's Adrian Wojnarowski. The contract has the potential to earn him as much as $231 million, his agent told Wojnarowski. The deal ensures that the electrifying superstar will remain in New Orleans for the foreseeable future, despite plenty of questions surrounding his health and ability to manage his weight within the past year.
Despite his injury-plagued 2021-22 season, the Pelicans still found a way to make it to the post-season this year. New Orleans gave the Phoenix Suns all they could handle, but it wasn't enough as Williamson's teammates fell to the defending champions of the Western Conference. With Williamson back in the fold for the future, the Pelicans will be looking to build on their success.
Whether you're a hardcore or casual basketball fan, watching Zion Williamson play basketball is a joy. Here's to hoping we see some more rim-rattling, gravity-defying dunks from the former Duke star next season.
More on Zion Williamson, New Orleans Pelicans
Outside of LeBron James, Zion Williamson entered the NBA with more hype surrounding him than any NBA player in history. Rim-rattling dunks, superstar ability and a frame fit for an NFL running back made him one of the most intriguing prospects of all time. Jubilation was the feeling in New Orleans when they won the Williamson lottery. Now, it's turned to question marks and more.
Nevertheless, Williamson has proved worthy of the No. 1 selection when on the court. In his first two seasons in the NBA, the former Duke star averaged 25.7 points and 7.0 rebounds per game. However, staying healthy has been a problem for Williamson.
The Pelicans traded away Anthony Davis with hopes that Zion Williamson could fill the void. It looked like a shrewd move at first, but now Williamson has to hold up his end of the bargain. Hopefully, the 2022-23 season and beyond will prove more fruitful for the former Duke star.
On3's Stephen Samra also contributed to this article.