Former NFL official weighs in on overturned Cowboys fumble recovery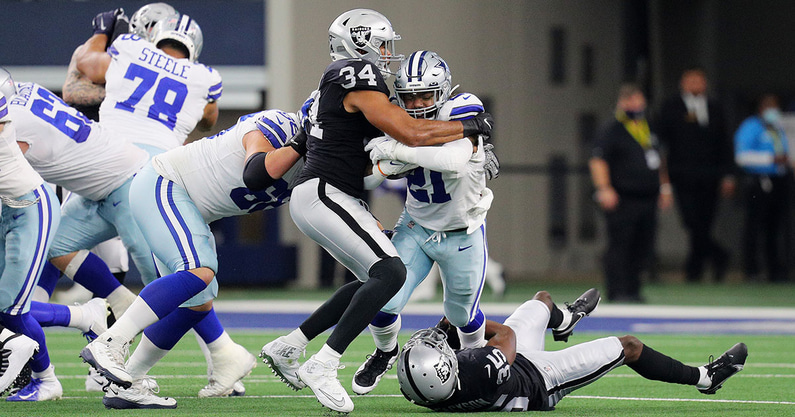 It could've been the play of the day. Instead, it was overturned on the field — and former NFL official Terry McAulay voiced his disagreement on Twitter.
The play happened in the first quarter of the Dallas Cowboys vs. Las Vegas Raiders game and Cowboys safety Keanu Neal saved it from going out of bounds, tossing it to a fellow defender. But the officials met to discuss whether or not Raiders tight end Darren Waller completed the catch.
They ruled he didn't, meaning possession stayed with Las Vegas. McAulay, who's also the rules expert for Sunday Night Football, thought the call should've stayed a fumble.
"This appears to be another example of using Replay Assist to change the ruling on the field when it is not clear and obvious that the ruling on the field was incorrect," McAulay tweeted. "The receiver gets control, 2 feet down, and then turns upfield. That was the original ruling on the field."
WATCH: Dallas Cowboys epic fumble recovery ruled incomplete pass
It looked like one of the most heads-up fumble recoveries you'll ever see. But it was ruled an incomplete pass.
Dallas Cowboys cornerback Jourdan Lewis appeared to force a fumble on a catch by Las Vegas Raiders tight end Darren Waller, and safety Keanu Neal made a brilliant play to knock it back in bounds and give the Cowboys the ball.
Or so we thought. The officials ruled it an incomplete catch, keeping possession with the Raiders.
It proved not to be a big no-call. The Raiders didn't score on the drive, keeping it a 7-6 Las Vegas lead. Las Vegas scored right out of the gate on a 56-yard touchdown pass from Derek Carr to DeSean Jackson to take a 7-0 lead.
But Dallas answered right back when Dak Prescott found tight end Sean McKeon for a touchdown. But Greg Zuerlein missed the extra point to keep the Raiders in front 7-6.
Las Vegas eventually scored just before the end of the first quarter to extend its lead to 14-6. Josh Jacobs ran it in for a one-yard touchdown run.
The Raiders currently lead the Cowboys 17-13 in the third quarter on CBS.