Greg McElroy debates Bryce Young, CJ Stroud as 2023 NFL Draft prospects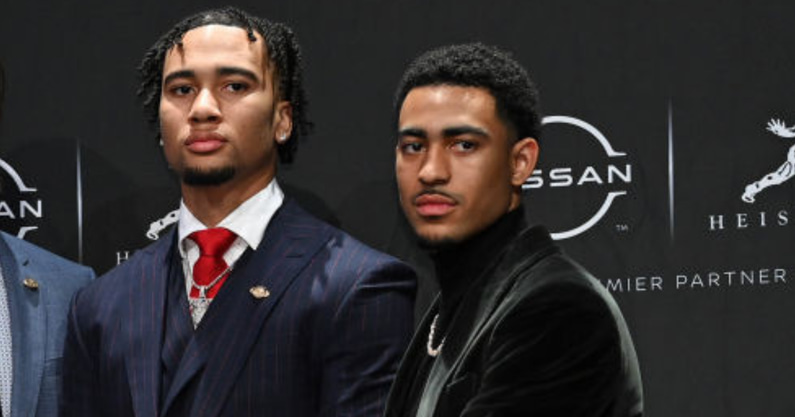 Alabama's Bryce Young and Ohio State's CJ Stroud top every Heisman watch list and 2023 NFL quarterback mock you can find. That pair has firmly separated themselves as the 1a and 1b of QB prospects. However, which one is the 1a? Who's the 1b? Trying to find the key qualities that tops one over the other reaches the point of nitpicking. However, ESPN's Greg McElroy attempted to break down the duo.
McElroy talked Young vs. Stroud on 'The 3 And Out' podcast with John Middlekauff. He started off with Young and his top-notch instincts at his age. His one issue, though, is the size of the Crimson Tide QB and how it could affect some NFL decisions.
"(Young's) got great instincts. He doesn't get squared up very often, he's got a great feel for pressure, and he knows when pressure is coming. He also has a great understanding of protection. For a guy that's only two years out of high school, he always knew where the unblocked defender was going to be and had an answer always. That comes from study (and) that comes from instincts," said Mcelroy. "He is one of those guys where I do think his size will be held against him. If I'm a multimillionaire and I'm going to invest the future of my franchise, I probably don't want a guy that would potentially be an injury risk."
Young's size didn't hurt him last season on his way to emphatically winning the Heisman Trophy. He finished second in the NCAA in yards (4,872), touchdowns (47), and QBR (87.6). It is a similar issue to what Kyler Murray and Russell Wilson had coming out of college. While elite talents, questions persisted about how their size would affect them at the next level. In the end, it hasn't stopped either from succeeding.
McElroy then moved on to Stroud and gave rave reviews of the redshirt sophomore out of Rancho Cucamonga. He glowed over Stroud's insane mechanics and the all-around package he brings to the position.
"CJ Stroud is beautiful. I don't know how else to describe it. He's just pure. What I love is his release. For the ball to jump out of his hands with as much velocity as it does while having as short and quick a release as he has, it just doesn't make sense from a physics standpoint. I don't know how he does it. It's just this power, this speed and this explosiveness that is just kind of difficult to describe and to relate because there's not that many guys that can do it," McElroy said. "He's extremely accurate on the underneath stuff, the downfield stuff is something that improved as the season went along last year, and he's got great physical ability where he can run and extend and move in the pocket."
Stroud finished fourth in Heisman voting last season with NCAA finishes of fifth in yards (4,435), third in touchdowns (44), and first in QBR (91.6). The rarity of back-to-back Heisman winners and his size compared to Young has Stroud atop many Heisman odds and NFL mock drafts.
When it comes down to it, McElroy says it's all about what the general manager is looking for when deciding between the two. Both are elite while each has a trait that breaks him away from the other. There's almost no wrong answer. McElroy says if you lean typical size, you take Stroud. If you want feel and instinct, you select Young.
"I don't know if (CJ's) instincts are quite what Bryce's are. Of course, his measurables are more desirable than Bryce's measurables. That would be the one thing. Do you value the measurables or do you value the instincts? That's kind of where you might be able to create just a little bit of a gap between the two. CJ being the measurables guy, Bryce being more instinctive."