Colts owner Jim Irsay addresses devastating week 18 choke with statement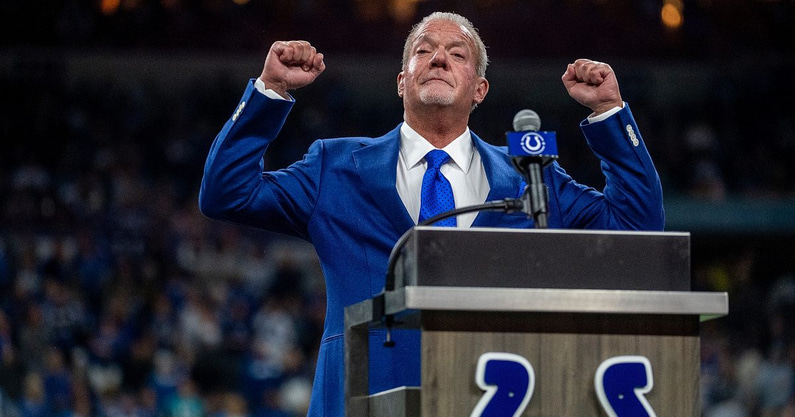 The mission was simple for the Indianapolis Colts; defeat the team with the worst record in the NFL, the Jacksonville Jaguars, and secure a spot in the 2022 NFL playoffs. And on paper, it would appear to be a layup victory for the Colts. However, it was anything but that, as they would fall to Jacksonville 26-11, eliminating them from playoff contention.
After a complete face plant that hard, somebody from the organization had to speak up and say something, anything. And that is just what Colts owner Jim Irsay did on Wednesday from the Colts Twitter account.
"When we started 0-3, in new the rest of this season would be an uphill climb. We all were hopeful we could dig our way out of the hole and reach the playoffs, and we should have. But we ended our season in perhaps the worst way possible and missed our chance too complete history."
The history that Irsay was pointing out, is no team in NFL history has started a season 0-3 and reached the playoffs. The Colts would have achieved this goal if the NFL season was still at 17 regular-season games. But this year, it was bumped up to an 18 game regular season.
"The buck stops with me, and this experience makes me even more determined to bring Indiana a contending team. We are already working toward the future, and I'm going to do whatever it takes to push us in a position to win next year and for years to come."
"As always, thank you for your support of the Colts in 2021. this was a rough way to end our year, but this bad taste will feel and motivate us even more for next season. I promise you there are some exciting days to come," Irsay wrote.
Witten on Cowboys Super Bowl chances
Jason Witten is one of the best tight ends to ever do it. Witten played the first 16 seasons of his NFL career with the Dallas Cowboys before finishing with the Las Vegas Raiders in 2020. With the Cowboys back in the playoffs, he believes they're in great position to make a run.
"I think it's a pretty resilient bunch," Witten said about the Cowboys' chances at a Super Bowl run, per The Athletic's Jon Machota. "I think they can be really good. That road game against the Patriots said this Cowboys team is for real…I think they're gonna start playing their best football at the most important time."
Witten's career with the Cowboys was a memorable one. After playing in 15 games as a rookie in 2003, Witten did not miss a regular-season game for the rest of his career. Witten caught 1,228 passes for 13,046 yards and 74 touchdowns in his NFL career. He had thirteen catches for 69 yards and two touchdowns in Las Vegas.
On3's Jonathan Wagner contributed to this report.