Joe Burrow reflects on time spent at Ohio State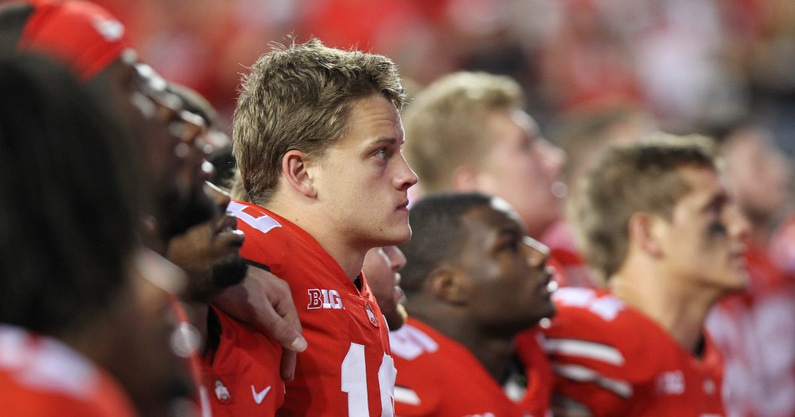 Everybody knows Cincinnati Bengals quarterback Joe Burrow for his historic season and run with the LSU Tigers to capture the 2019 college football national championship. And true fans of the sport know that his journey did not start in Baton Rouge with the tigers, but in Columbus, Ohio, at Ohio State.
As Burrow prepares for his first-ever AFC championship game, he took a little time out to reflect on his time spent as a member of the Ohio State football program.
"I wouldn't be the same player that I am today without those trials and tribulations that I went through there. I loved my time there. I stay in contact with a lot of people from Ohio State," Burrow said Wednesday.
For Burrow, it was a tale of two cities from his time at Ohio State in comparison to his time at LSU. He spent two years with the Buckeyes and, over that time, played in just 10 games, completing 29 of his 39 pass attempts for 287 yards and two touchdowns. After Dwayne Haskins was named the starter, Burrow would transfer to LSU.
With the Tigers, Burrow put up historic numbers as a senior at LSU in 2019. That season, Burrow threw for 5,671 yards, 60 touchdowns, and six interceptions, adding 13 rushing scores. His historic performance ended with a Heisman Trophy, and LSU went undefeated and won a national championship. The Bengals selected Burrow with the first overall pick in the 2020 NFL Draft.
Cincinnati Bengals cornerback Eli Apple takes a shot at Jalen Hurts
Current Cincinnati Bengals cornerback Eli Apple went on a bit of a Twitter rant on Sunday. He spent most of his day debating which fanbases he despised more, the New Orleans Saints or the New York Giants.
Apple played for both, getting drafted to the Giants in 2016. They traded him down to the Big Easy just over two years later, where the cornerback played in 20 games for the Saints.
Somehow in all of this, current Philadelphia Eagles quarterback Jalen Hurts caught a ricochet shot from Apple.
A Saints fan provided a screenshot of a tweet from wide receiver DeVonta Smith from 2018, where the current Eagles player said he "shakes" when he sees Apple in one on one coverage. The cornerback responded by saying Smith is just mad because of who his quarterback is.
"Lmao Jalen hurts his Qb he big mad still shaking his head," Apple said via Twitter.
Smith, who is a native of Louisiana, was presumably watching the Saints' Dec. 23 matchup against the Pittsburgh Steelers. Although New Orleans was able to pick up a 31-28 win, it was a rough day for the secondary. Quarterback Ben Roethlisberger threw for 380 yards and three touchdowns, while both Antonio Brown and JuJu Smith-Schuster had over 100 receiving yards.
As for the shot at Hurts, he and Smith broke records for the Eagles this season, having the most receiving yards by a rookie in franchise history (916). The two go back to their days in Tuscaloosa, being on the 2017 national championship team.
Philadelphia ranked No. 25 in passing yards this season and had the fewest passing attempts in the league. Running the ball really became the mantra for head coach Nick Sirianni as the season progressed.