Kirk Herbstreit weighs in on Bengals Super Bowl run, possible dynasty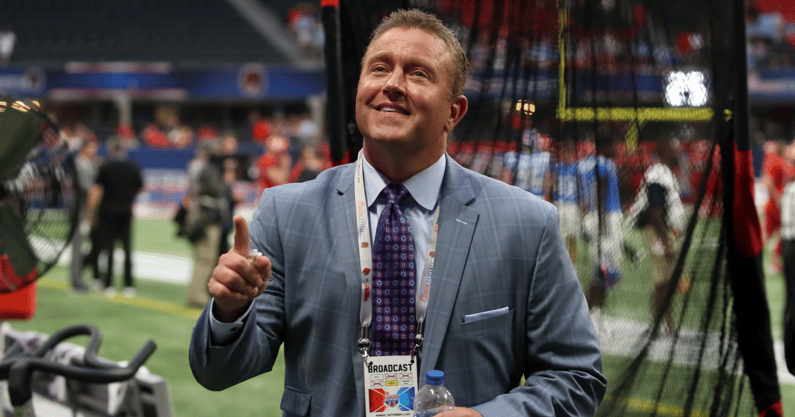 Kirk Herbstreit is thrilled about the Cincinnati Bengals run to the Super Bowl. An Ohio native, the ESPN analyst has kept up with the team for years, even through some incredibly rough times for the franchise.
In an appearance on the Pat McAfee Show, Herbstreit explained what Cincinnati's success means to the state and how incredible it is what Joe Burrow has done in just his second NFL season.
"Everybody is excited in Ohio and I think anybody watching the NFL is excited with what the Bengals have done," he said. "I've followed the Bengals since the late '70s. I would argue after Paul Brown passed and Mike Brown took over, over the last 25 or 30 years the Bengals have been right in that discussion for one of the worst franchises in all of professional sports. It was a franchise that very few wanted to go to as a free agent. When you got drafted to that team, there was some angst and frustration.
"There was a lot of players fighting to get out of that organization. You're gonna tell me in 2022 that they're not only in the Super Bowl, but they're a cool brand? Joe Burrow and Ja'Marr Chase, I think that's more impressive than the fact they're in the Super Bowl. You can wear a Bengals hat in LAX or anywhere in America and people will look at you like, 'Oh, what's up?' Before it was like wearing an Orlando Magic hat."
Burrow has captivated the country this season with his passionate style of play. Reuniting with his LSU teammate Ja'Marr Chase, he led Cincinnati to upset victories against Tennessee and Kansas City in the playoffs. The two won a national championship together in college and now have a chance to do so at the pro level.
Kirk Herbstreit said it's not just the Bengals quarterback is skilled, but that he has the heart to go along with it. To make his point, he recalled a story he heard about Burrow while covering him with the Tigers.
"Those of us who followed him closely in college knew about this guy," the ESPN analyst said. "He's almost like an assassin. He's not just a good player, he's got a different kind of approach. Quick story about him: When I was covering LSU in 2019, the year they went on to win the national championship, I was sitting around with (Justin) Jefferson and Chase. I go, 'Tell me about how Joe leaves Ohio State and how did he win you guys over?' And they said, 'First day of practice he came out and Devin White was the linebacker and alpha of the team. Devin White in a team drill hit him late. Instead of just taking the hit him back and got into a huge melee and ended the practice. That day we looked at him as our quarterback.'
"You don't find most quarterbacks taking on Devin White as the new guy on campus other than Joe Burrow. If you were to ask me or anyone that followed him at Ohio State, no one knew any of these characteristics. He had to go to LSU for us to see what intangibles he had in him. His game is ridiculous, but it's what's in his heart to me."
Burrow finished the 2021 regular season sixth in total passing yards with 4,611 to go along with 34 touchdowns. He led the NFL with a completion percentage of 70.4.
As they have been most of the playoffs, the Bengals are once again underdogs heading into the game against the Los Angeles Rams. But that hasn't seemed to matter to Burrow and company thus far, and they have a chance to pull off another upset. If they do, it will further cement the growing legacy of their young quarterback.
Kickoff for the game is set for 6:30 p.m. ET on Sunday at SoFi Stadium in Los Angeles.